Rating:

Product Reviewed: Simple Traffic Solutions
Trial Available: No
Creator: John Thornhill
Product Type: Traffic Membership – One Time Payment
If you already know how to generate as much traffic as you need or could possibly want to your website, then stop reading now as this product is about one thing – TRAFFIC. If, on the other hand, you are interested in getting your hands on a traffic generation product 'chock-full' of methods that DON'T involve Google, read on…
So why avoid Google for TRAFFIC?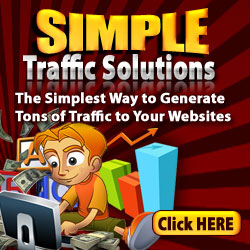 You would think that paying for traffic with Google would be a no-brainer. Unfortunately, nothing could be further from the truth. The creator of these traffic methods logged into his Google Adwords account one day to find out he had been banned from running ads. Believe it or not this is really common for anyone marketing in the IM niche.
Google can afford to be 'picky' about who they want running ads as they have big companies spending millions upon millions of dollars. The little guy is pretty insignificant in the grand scheme of things, which is bad news for you if you are relying on them for traffic as it's a precarious strategy, given that you could potentially suffer the same fate sooner or later.
SEO for Organic Traffic?
Okay, so what about SEO? That's another popular traffic method for getting search engine traffic from Google. With SEO you have to stay 'on the ball' and learn about complex methods such as link building, keyword research, optimizing pages, sitemaps, meta tags, content creation and more…
…which would be fine if it didn't change, but it does…. all of the time. You could literally dedicate your life to getting ranked competitively in the Google search engine, only for them to 'change the game' with a few tweaks of their algorithm and see your site disappear from the top of the search results and get buried so deep that your site has about as much traffic as a coke stand in the middle of the desert. Literally!
It's no small wonder then, that the creator of this product, who had his Adwords account banned, decided to come up with traffic methods that didn't involve any of these things. He studied all the traffic methods traditionally out there, testing and tweaking until he had perfected them.
What About Real World Results?
His websites received over 2 BILLION hits from 20 DIFFERENT traffic generation methods. That in itself is mind blowing, but here's the real KICKER!
IT DIDN'T COST HIM ONE SINGLE CENT.
Yes, you read that correctly. 2 BILLION HITS and no money spent generating all that traffic.
This step-by-step traffic generation program shares the methods used to generate this insane amount of traffic and it can help you get lots of traffic to your websites too.
If you want more traffic than you can shake a penguin at (no offence to any penguins that may be reading this), you should start going through this training…
What Is In Simple Traffic Solutions?
This product consists of over 50 modules that teach you the methods John Thornhill uses to generate traffic, with each module containing a checklist, theory and practical training as well. This is paint-by-numbers simple to follow as it's all laid out in a clear and easy to understand way, perfect for newbies and more experienced marketers looking to get traffic without relying on Google in any way, shape or form.
Rather handily, each of these modules are also available in different formats so you can watch the videos online or on a handheld device such as an iPad or iPhone.
If 50 modules sounds like a lot, then don't worry because each method is given a star rating, revealing which methods worked best for the product creator and also those that didn't work quite as well.
Although some of the traffic methods shown in this product may appear elementarily simple, do not be fooled into thinking that only complex traffic methods work. This product dispels that myth and does so in a powerful way by revealing how each method is implemented, so you can see for yourself.
This product is based on real-world experience and testing as oppose to being a collection of traffic methods assembled together on a theoretical basis.
You also get PDF materials including a comprehensive eBook,
traffic generation mindmap and easy to follow
checklists with each of the modules covered.


A ton of work has gone into this product and at the current price it offers INSANE value to anyone that wants to generate significant traffic to their website without having to worry about what Google is doing. You'll be able to sleep at night knowing Google isn't about to tweak an algorithm and cut your traffic off overnight… or decide they don't want your Adwords business.
In fact the price is pitched so absurdly low (under $10), you're in danger of assuming that the product either can't be that good or that there is a catch. Well, it really is *that* good (personally I think the product should be priced higher) and as a purchaser of this product, I am here to tell you there is no catch. Yes, there is an upsell which offers you coaching, but you don't need that to make these traffic methods work for you.
Pros
* Over 50 Modules of Traffic Training
* Costs Less Than $10 to Become a Member (One-Time Payment)
* Coaching Available (Optional)
* Training Available In Different Media Formats
* Star Ratings Applied to Traffic Methods So You Can See What Works Best
* Mindmap and Checklists Included
* Traffic Methods are Based on Real-World Experience of What Is Working
Cons
* The Low Price Will Make Some People Mistakenly Think This Product Is Not As Good As It Actually Is
* You Will Need A Website As Traffic By Itself Will Not Make You Money Unless You Are Selling a Product or Service either as an Affiliate or Product Owner.
Simple Traffic Solutions – Summary
For less than a $10 investment you can get a truly comprehensive traffic guide, mindmap and over 50 modules which everyone can benefit from, regardless of where you are at right now in terms of experience. At the price it represents terrific value and a no-brainer purchase for anyone that wants to get more traffic to their site without worrying about 'pleasing' Google.