I want to tell you about a little-known method that has been 'hiding in plain sight' which you probably are not even aware of for increasing the number of 'likes' your page gets on Facebook.
Click on the play button below to watch the video:
What This Will Do For You
It will enable you to reach more people in your market and keep a growing audience updated with content about your business, which means higher engagement and more sales for your online business.
At this point you may be thinking, "So what? There's loads of paid ways to get more Facebook fan page likes. What makes this any different?"
This particular strategy is not only straight forward to implement, it's also targeted and in-line with Facebook's Terms of Service. In other words, this is a totally legitimate method you can start doing today.
For reasons best known to Facebook though, this method of increasing your page likes is relatively well hidden. So well hidden in fact, that until you read this post you will probably not even be aware of the fact that it exists.
Increasing Your Facebook Page Likes (Step by Step Guide)
At this point I am now assuming you already have a Facebook page. If you don't, stop what you are doing and go and create one for your business because you'll need one for this method to work for you.
Step #1: Make a Page Post
If you've had a Facebook page for any length of time, you should already have a number of posts on it. The content can be anything from written text to text with an image or even a video. Anything that Facebook recognises as content that your audience will potentially like is fine. Your content will essentially act as a 'tripwire' for something that people using Facebook love to do to posts they appreciate and that's to hit that 'like' button. Users of Facebook are already trained to like stuff they 'dig' 🙂
Step #2: Wait for an Engagement Tsunami (a mild splash is also fine)
When people see a post that they like, they usually do one of three things. They may make a written comment on the post or share it. They'll also 'like' the post. In my experience this happens far more than people sharing or commenting anyway and for this method the 'likes' are definitely what we want.
Step #3: When You Start Getting Likes to a Post

After a while your post should start accumulating likes, especially if your content in the post has 'hit the mark' with your audience. You should see something like this above the comments:

Click on the list of names on your post next to where people on Facebook have reacted to your post. In the picture above you can see that 57 people 'liked' that particular post.
Step #4: Invite to Like Your Page (where the rubber hits the road)

You know earlier I was saying that this method on Facebook is 'hiding in plain sight'?
Well, it's certainly the case here and when you click that innocent looking list of names next to the reaction on that post, Facebook will launch a window that shows all of these people that liked your post in a list format.
Next to the name of each person that has liked your post, you will also see if that person has ALREADY liked your Facebook page. If they have, it will say "Liked" but if they haven't it will give you the opportunity to click an "Invite" button and invite that person to like your page.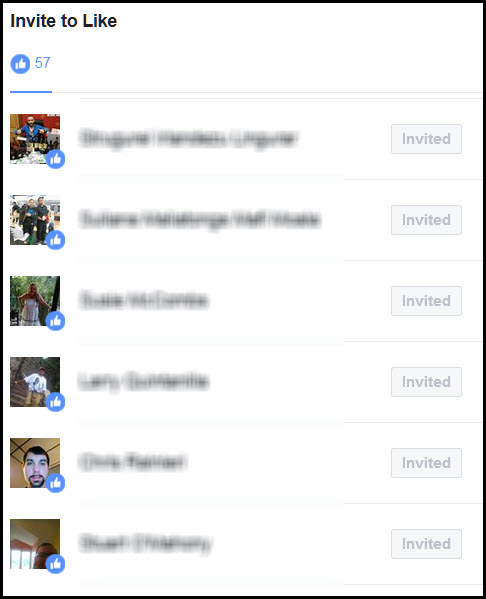 You see the buttons where it says "Invited" in the screenshot above? Well, that will say "Invite" if you haven't yet invited that person to like your page.
Step #5: Rinse and Repeat
If you've got a post with a ton of 'likes' on it then you will need to go through the entire list and hit that "Invite" button for every person that has not yet liked your page. This may sound boring and time-consuming but it really doesn't take that long and it's worth it because a percentage of those people WILL like your page.
This is also your opportunity to go through any other posts you have already published on your page that you haven't yet done this with. Also make sure you definitely do it with any future posts you publish on your Facebook page where you are getting 'likes' because you want to convert those post likes into 'page likes' as much as possible.
The number of people you get that will like your page after being invited varies, but speed is of the essence. The quicker you send out the invites, the higher your conversions are going to be as your post will be fresh in their minds at this point. People often have short memories online and will quickly forget what they have or haven't 'liked', so strike while the iron is hot for those page like invites!
More Page Likes = Increased Engagement
Of course, you're not just inviting people to 'like' your Facebook page for fun or to massage your ego. The reason you are doing it is so you increase engagement and actions on the page itself. Those actions can be anything from a new person joining your email list to purchasing a service or product from you or sharing your content with others. This is a seriously quick and easy way to help grow any brand or business that you have a Facebook presence with in the form of a page.
Power Tip to Scale This UP
You can wait around for new people to come along and like your posts or you can be pro-active and use some of your best posts as an ad to boost. You can literally spend $5 to boost a post which will get more people in your target audience engaging with your post in all sorts of ways including the 'likes' that we are looking for. You could also get sales directly from those ads so this is especially relevant if your post leads to a product or service that converts well. Something to bear in mind and if you are doing advertising on Facebook be sure to send out those invites to anyone that has liked your post.
I am sure that once you test this out you will be amazed at how quick and easy it is to do and you may even do a little cartwheel when you see new people liking your page. It's an awesome way to increase your Facebook page audience and it's powerful.
If you have enjoyed this post, found it useful or think other people will find it useful please feel free to share it with others, shout it from the rooftops and subscribe to this blog 🙂
Get my blog posts delivered by Email