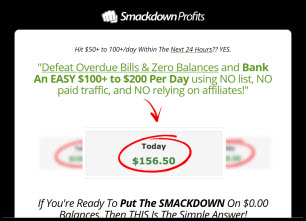 Smackdown Profits
Product Reviewed: Smackdown Profits
Creator: Manny Hanif & Saul Maraney
Product Type: One-Time Payment (Dimesale)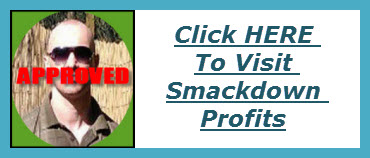 Making $100 a day is no problem when you are an established product vendor with a big list or a super affiliate, but what about making that sort of income on a daily basis if you don't have those things in place and you need to hit that income level as quickly as feasibly possible?
Smackdown Profits is a brand new product in the market place that has been created as a solution for those that want to get to $100+ a day consistently without having a list, paying for traffic or relying on recruiting affiliates to hit those income goals. In this Smackdown Profits review I will be covering what is inside this course and what you will learn. If you would like to visit the website to check out this course you can do exactly that by clicking here.
What IS Smackdown Profits?
In a nutshell it's a brand new case study PDF report plus 5 core 'over the shoulder' training videos which shows you how to generate $100+ a day with a free traffic method and it achieves this by combining that with a simple marketing funnel. It has been created for beginners so it's easy to follow or anyone that hasn't yet hit that $100 day income level online.
To Make This Method Work For You The Product Creators Say You DON'T Need:
You don't need a list
You don't need technical knowledge
You don't need to pay for traffic
And you don't need to recruit affiliates
Manny Hanif is the guy behind this product that has used this method to pull in $100+ a day consistently and he says that on his first 'try' he was able to make $140 with this method. The interesting thing about this product is that it does not rely on paying out money for the traffic, so that $100 a day figure is virtually all profit.
Anyone can make $100 a day if they are spending a fortune on advertising but making that level of income with totally free traffic in a short period of time would be truly impressive. In this review I am going to deconstruct what is covered in this product to see how doable it is for a complete beginner to go through this and follow it step-by-step.

Smackdown Profits – Inside The Members Area
For the avoidance of any doubt this is a real review of this product and I am now going to walk you through what's inside the members area when you get your hands on Smackdown Profits. Let's start with a quick screenshot: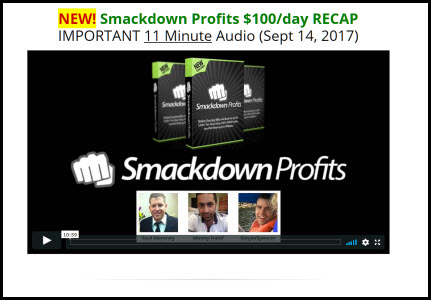 The very FIRST thing you will want to go through is the PDF training guide which is 22 pages in length and it walks you through the strategy of generating cash by leveraging the power of FREE traffic. Whilst I obviously cannot reveal the actual strategy I will tell you that to make it work you will need to use the Facebook platform.
On page 2 of the guide the creator reveals he actually made well over $100 in 24 hours using the Smackdown Profits method which you can replicate as many times as you wish.
What You Will Need To Make This Work:
A Facebook Account (most of you reading this will already have one of those)
An Autoresponder Account (see my recommended tools section to get a 30 day free trial)
As both of the above are free to get started with you can get going without any outlay. If you use my recommended autoresponder you will then pay $19 monthly which is literally nothing versus the profits you will already be making. Let's say you did this 2 or 3 times a week and made $100 each time, you'd have $1200 a month versus an expenditure of $19 which is peanuts.
I only mention this because I know some people reading this don't like the idea of paying out for tools but the best thing I ever did was get myself an autoresponder account. It will pay for itself many times over and become your most powerful asset over time.

$300 Within 24 Hours Using A Little Known Feature?
Inside the report it gives you a number of great ways to generate buzz and make sales by taking advantage of a feature many people may not even be aware of. It doesn't cost any money to do this and Manny used this method to make $300 doing the very same thing he explains inside the report. He also adds PROOF to this by providing you with the links to the content he created in order to make those sales. I recommend you go through the links he provides inside the report as you will be able to see exactly how it's done in a real life scenario.
As well as the 22 Page PDF training there are also 5 VIDEOS that walk you through the method ranging from 3 to 7 minutes in length. In total there is approximately 30 minutes of video training so you will be able to read the PDF and go through the videos in around 50 minutes altogether.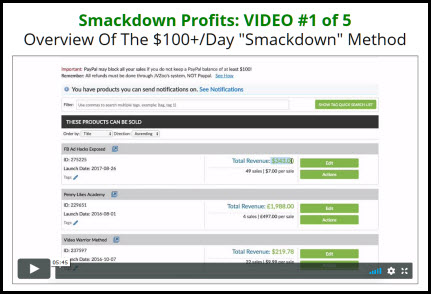 The above is a screenshot of Video 1 from inside the members area. Inside this video, for example, Manny walks you through his actual JVZoo account and shows you the sales and income he has made from a campaign at the end of August (49 sales and $343 revenue).
As well as the 5 training videos there is a Smackdown Profits $100+/Per Day Audio Recap and an update video that is 10 minutes in length.
So if you add all that up you are getting just shy of an hours worth of concise training focusing on this FREE traffic method with a 22 page guide you can follow and see real life examples of a campaign inside.
BONUS Material
At the time of writing there are also some pretty cool product bonuses included in the members area including:
Lazy Profit Explosion
Supersonic List Machine
Speedy Snowball Profits
Fast "Smackdown Traffic" Secrets
Quick List Building Techniques
Pros
It's Quick & Easy to Follow
You Don't Have to Pay For TRAFFIC
It leverages a platform that over a BILLION people already use
You CAN build a list with this method at the same time (powerful)
There is RECENT PROOF of this method generating multiple sales and well over $100
You don't need to pay out for Webhosting or Domain Names.
Cons
You Will Need To Use or Be On Facebook (not everyone loves Facebook I appreciate this but you can still use it for business)
To Get The Most Out Of It, it's a very good idea to have an Autoresponder account which is free for 30 days but after that it's going to cost you $19 a month so you will need to factor that in (if you get started immediately you will easily more than cover this small cost)

Smackdown Profits Review – Concluding Summary
This method leverages the behemoth that we all know as Facebook and shows you how to drive FREE traffic to generate an income (this method does not rely on paid advertising or getting affiliates onboard). For a relatively modest investment you get access to a 22 Page PDF report walking you through the system with ACTUAL examples of a successful campaign. It then backs this up with a series of training VIDEOS (5 in total + 2 Audios).
The most recent campaign Manny ran using this method was in August and it generated 49 sales with $343.00 in revenue. He also shows examples of older campaigns where he has used this method in practice including one that generated 4 high ticket sales totalling £1988.00 (sterling) in sales. If I had one criticism it would be that I would have liked to have seen more recent profitable campaigns but Manny has very recent EARNINGS PROOF of this method working very well (you can't really argue with 49 low-ticket sales in a short space of time).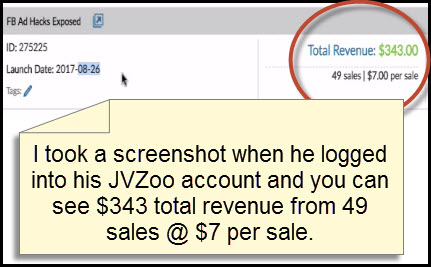 It works by utilising the power of social proof and engaging your audience with the kind of content that results in curiosity which leads to sales of whatever product you are selling or promoting. The beauty of it is that anyone can use it to quickly engage with a large number of people without risking capital on paid advertising, making it ideal for people on a budget that want to raise money to re-invest or to generate a cash income relatively quickly with the power of FREE traffic and a little bit of creative elbow grease.
In short, it's worth the entrance fee for anyone that finds the idea of making an income using just one 'free to use' platform that is wildly popular already and one inexpensive tool which you can get 30 days use of for free.
Get my blog posts delivered by Email