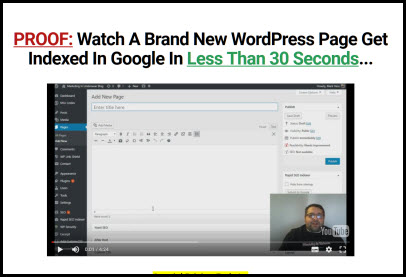 Rapid SEO Indexer
Rating:

Product Reviewed: Rapid SEO Indexer
Creator: Mark Hess & Michael Thomas
Product Type: Software Plugin – One-Time Payment
Options: Single Site License or Unlimited Developer License
Click on the play button below to watch the video:
Have you ever been frustrated at how long your content sometimes takes to show up in the Google search results? Would you like to get all your pages and posts indexed in Google in minutes or even as little as 30 seconds? This plugin utilises a proven method to automate a process to save time indexing your content and it works within your dashboard. As part of my Rapid SEO Indexer review I would have created a demo video showing you how this works but there's no need because Mark Hess has already recorded a live video which shows you how this plugin got a brand new article indexed in Google in 30 seconds. You can watch this video and check out this software plugin by clicking here.
What Is Rapid SEO Indexer & How It Works
It's a WordPress plugin which works right out of the box and installs in a matter of seconds. Once you've installed it you simply activate the plugin and you're all set for getting your pages and posts indexed in Google.
Once installed it works from within your WordPress dashboard.
Let's say, for example, you had just created a new post and published it. In your dashboard you will see: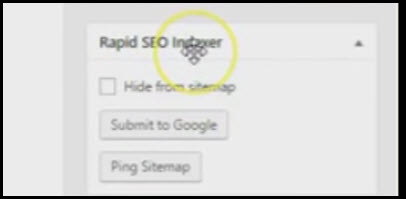 See the "Submit to Google" button for your post or page? Click that! This will take you another button called "Fetch". Click on that as well.
So far we're just 2 clicks in 🙂
At this point you just select "Request Indexing" which moves us on to button number 2 which is "Ping Sitemap".
Click that!
At this point you're done and that's all there is to it. This is enough to get your brand new page or post indexed in Google within a couple of minutes. In the live example video on the product page it indexed a brand new article in about 30 seconds.
Simple and it does what it says on the tin so there's no need for a long-winded and in-depth review here. If you want a straight-forward plugin to get your site pages and posts indexed fast then look no further.
Rapid SEO Indexer Features & Benefits
Get FREE Traffic from Google – By indexing your content (both pages and posts) on Google fast with this plugin you can get more free organic search engine traffic to your website.
Installs Quickly – It's simply a case of installing the plugin and activating it.
2-Click Indexing – There are 2 buttons to get your content indexed with this plugin. "Submit to Google" and "Ping Sitemap".
Built-In Realtime Sitemap Generator – This plugin builds a sitemap for your site in real-time.
Free Lifetime Updates and Support – They guarantee this plugin will always be up-to-date and you will get free updates for life.
Unlimited Developer License for Unlimited Use – When you purchase the unlimited developer license you will not only be able to use this on unlimited sites you personally own but also any client sites you may be working on now or in the future.

Rapid SEO Indexer License Options
There are 2 license options you can purchase. They are as follows:
Option #1:
Single Site License – This gives you a license to install on one site your personally own.
Option #2:
Unlimited Developer License – This gives you a license to install on unlimited sites for you and your clients.
Which one should you choose?
At the time of writing this review they are giving new customers a $37 discount on the unlimited developer license which means it is ONLY 95 cents more than the single site license. At this moment in time it makes it a no-brainer to get the unlimited developer license for less than a dollar more than it costs to buy the single site license.
Rapid SEO Indexer Review – Concluding Summary
If you have a site that runs on WordPress and you want to get your pages and posts indexed quickly I can confirm that this plugin does use a proven method which definitely works (which I have also used) and automates it so you can get more free search engine traffic to your site. Once you have clicked the two buttons which "Submits to Google" and "Pings Sitemap" your page or post will get indexed in anything from 30 seconds to a few minutes. It's one of those things you can do as a matter of routine to get each new page or post indexed in Google and it's quick and easy to do.
They are not re-inventing the wheel with this plugin here. What they are doing, however, is providing you with a faster way of getting your content indexed and saving you time on approaching this manually. If you don't know how to get content indexed in the Google search engine quickly this is something of a no-brainer purchase.
The unlimited developer license is the one to get at the time of writing this review as it's only 95 cents more than the single site license and this will allow you to install this plugin on as many sites as you want. Of course, this could change in the future so just check what the difference in price is and that decision is entirely up to you 🙂
If you enjoyed this review please do share it with anyone you know that might find it useful. Thanks as always for reading!
Get my blog posts delivered by Email