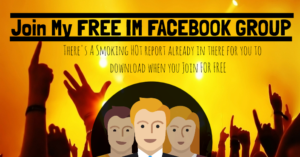 https://www.facebook.com/groups/imwithdeanjames/
Today I want to talk to you about TRAFFIC.
For most people starting their own online business it's a big deal.
And it's TRUE that TRAFFIC is the lifeblood of your online business.
But,.. it isn't the whole enchilada. There are other considerations to take into account such as what your website is offering or how well the offer you are promoting is converting.
That's a whole other post in itself so for simpicity's sake let's stick to the subject of TRAFFIC.
Not all traffic is created equally.
If you have high quality traffic you don't need the volume that you do if the traffic is not highly targeted.
The more targeted the traffic the higher conversion rates you are likely to see.
Essentially there are TWO types of traffic. There's FREE and PAID.
Both have a COST.
What do I mean? Well, FREE traffic sounds GREAT but it will cost you your time and that has a value.
Only you know what that actually IS, but if you're cash poor and time rich, you can spend more of your free time driving traffic.
If cashflow isn't a problem you can spend more money on PAID traffic which will save you a lot of time.
My advice is to do BOTH. Buy PAID traffic and also harness the power of free traffic.
Pick two traffic methods (one free and one paid) and stick at them until you are getting results.
With regard to paid advertising it can be quite scary at first, especially if you feel like you don't really have money to 'lose' but you are running an online business so you need to bite the bullet and pay for some advertising.
You don't have to spend a fortune. An ad budget of just $5 will be enough to get you started.
Don't spend any of your hard-earned money on TRAFFIC that promises thousands of website visitors for a few dollars though. All you are going to get if you purchase that is fake or junk traffic that won't make you any money.
I have tested traffic like this on several occasions and you end up with no buyers and if you're building a list with that kind of traffic, you end up with thousands of worthless leads. It may sound good that you've got 5000 people on your list but if none of them buy you might as well spend your time chatting to your next door neighbour instead
😉
This was one of the mistakes I made when I first started online. I would avoid PAID traffic like the plague but I would spend COUNTLESS HOURS driving free organic search engine traffic.
This worked great until "Google" decided to change it's algorithm in dramatic fashion. Every time you think you have SEO cracked, the search engines move the goalposts.
You could literally go from hundreds of dollars a day down to a pitiful figure if you are relying solely on traffic from the search engines (personally I now look at traffic from search engines as a bonus in the most part).
Make sure you run your campaigns for long enough so the cost per click normalizes.
ACTION STEPS:
1) Have something to sell either as a product vendor or as an affiliate. Pick an offer that looks like it is converting well.
2) Optional: Drive traffic to a squeeze page. You can send it directly to the offer to make some quick sales but long term you will want to start building a list.
3) CHOOSE 2 traffic sources and get good at them. DON'T choose half a dozen of them straight out of the gate. You want to get measurable results before expanding the traffic sources you are utilizing.
4) Don't give up at the first hurdle. At first you may not get good results but as you become more familar with what is working you can scale it up. You can also re-invest a percentage of your profits into getting more traffic.
The above is the latest post in my brand new IM Facebook group which you can currently join for FREE at the link below. To be a part of this community and see more posts like this join my group at the link below:
https://www.facebook.com/groups/imwithdeanjames/