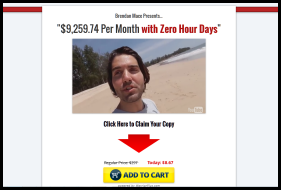 Zero Hour Work Days
Rating:

Product Reviewed: Zero Hour Work Days
Creator: Brendan Mace
Product Type: Membership – One-Time Payment
Click on the play button below to watch the video.
Do you want a system you can follow online in 15-20 minutes a day? Before I even knew this product was being released, I have to say that I had already "discovered" Brendan Mace. I was actually surfing the net one night and stumbled across a BRILLIANT article about how this guy made thousands of dollars online while he was travelling. That guy just happened to be Brendan, the creator of this course called Zero Hour Work Days. In this review I am going to give you the low-down on what this course is all about, a background on its creator, what you get when you buy this course and whether it delivers on its promises. If you would like to visit the website and check out the course, you can do so by clicking here.
What Is Zero Hour Work Days?
It's a full video membership course which shows you how Brendan Mace makes over $9000 a month online but with the added benefit that it doesn't take long to implement. Brendan does all the work needed to maintain a $300 income per day with just 15-20 minutes work. This training teaches you the exact system that Brendan uses and it's all delivered in video format over 8 modules and instantly viewable inside the members area once you've purchased the course.
These 8 modules are:
  Module 1 – How to Make $9,259.74 Per Month
  Module 2 – Where to Find the Right Resources
  Module 3 – Tricky Ways to Get FREE Traffic
  Module 4 – Best Traffic Source (Get it Free)
  Module 5 – Secret to a 210% ROI (Easy too)
  Module 6 – Simple Money Pages in Minutes
  Module 7 – Affiliate Promos that Print Money
  Module 8 – Where the REAL Money Is… (Truth)
So What Will You Learn?
You'll learn how to create a sales funnel that makes easy money (if you can call working 15-20 minutes daily to make a full-time income "easy money" – In my world that's pretty easy). If you're interested in the more technical aspects of what you will be learning to generate this income you'll learn how to create a squeeze page and MAKE MONEY immediately after opt-in. You'll also learn how to trade traffic, how to send affiliate promotions and even where to buy traffic. The course also includes free traffic strategies as well.
Who Is Brendan Mace?
He's a guy that DOES exactly what he is teaching in this course. Unlike some marketers that sell one thing and do something entirely different, this is actually what he does to make over $9000 a month. He backs this up with a subscriber count of over 26,000 on YouTube and 108 videos on there that deliver content with real value.
One piece of the puzzle that makes this all 'add up' is the fact that Brendan spends a lot of time travelling. When you do this, if you want to actually travel and have a full-time income while you are doing it, you need something you can put in place that delivers RESULTS without having to work all day long. There would be little point in being a traveller and have to pull 8 hour working days to maintain that lifestyle. This makes it all the more believable that Brendan is actually working 15-20 minutes a day to make all this happen. Indeed, because I know what he is doing and how he is doing it, the whole thing tallies up because he is employing leverage from his list and generating passive income from his emails.
This course teaches you how to do all this and by following it you can indeed earn a full-time income working for the length of time that will have a lot of folks scratching their heads wondering how you pulled it all off.
Once you are pulling in $5,000-$10,000 a month online, working less than half an hour a day, don't blame me if people think you're Heisenbeg from Breaking Bad 🙂
This course really is about time FREEDOM as well as making money (and you know, when you get right down to it money just buys you units of time anyway). Freedom means a lot of things to different people, but if you just want more time to do whatever you want, even if that's building your business or playing video games (hey I'm not judging) then this course may well be the most valuable thing you have discovered in a very long time. It has the power, when followed to generate the sort of income that can free you totally from your job. That's assuming of course that you don't need more than $10,000 a month to live of course 😉

Does Zero Hour Work Days REALLY Work?
I know how easy it is to sit there and be sceptical. With all the products in this space making claims of "$X" amount per day, but this is one method that really works.
How do I know?
Because I do the same thing myself.
And because you're taking time out of your day to read this I'm going to reveal to you the actual method so you can make your own mind up as to whether it's worth buying.
This course teaches you how to send paid traffic to a landing page, complete with an upsell or one-time-offer. You then make the bulk of the money on the back end when your new subscribers join your list and run through the series of 40 automated follow-up messages (this is the power of building your list and having an autoresponder that WORKS for you).
The members area is filled with content (here's a screenshot):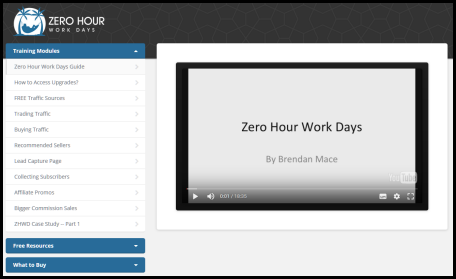 Zero Hour Work Days – (Members Area)
This course is easy to follow and ideal for anyone that wants to get started building and monetizing their list. The great thing about this course is that you literally only need 15-20 minutes a day to implement and maintain it. In a week or two from now Brendan is also including a case study on the product launch itself which is an unexpected and valuable bonus in itself.
The videos cover the getting of traffic, affiliate promotions, platforms and there are also links to purchase coaching and the Zero Hour Work Days upsells.
So What About The Upsells?
You know the bit about 'passive income'. Brendan makes no secret of the fact that the autoresponder is his best friend when it comes to passive income and in the upsell you are presented with a very interested package indeed. It's a "Done-For-You" set of 40 money-making emails you can plug into your autoresponder and drip feed on a daily basis to the subscribers on your list.
THIS is the key that unlocks the door to your dreams of passive income in less than half an hour a day while you are doing other things. Do not underestimate HOW POWERFUL this is because you ignore this at your peril. I highly recommend that you pick up the course AND the upsell that contains this package of 40 "Done-For-You" emails because it will be making you money around the clock once you've got them all plugged into your autoresponder.
Money Saving Tip: If you decide to purchase the done-for-you emails which I recommend you do, I feel obliged to tell you how you can save yourself some money on this upsell.
First purchase the main product (which in itself is a no-brainer at current price) and you'll be offered the done-for-you email package for $37
Don't jump in and buy them straight away.
Here's how you can save some money…
Click the no thanks link which is below the buy button and you'll be offered the same package of done-for-you emails for HALF the price.
(you can also get some moolah off Brendan's coaching package by doing the same thing – you'll find the links in the members area for upgrading).
The Pros
* 8 easy to follow video modules show you what you need to do, step-by-step so you can get started fast.
* The "Done-For-You" package of 40 emails which is available as an upsell when you purchase the course is a HUGE time-saver and will enable you to make a consistent passive income without all the ground-work required of writing those emails by yourself from scratch. You just plug them into your autoresponder and away you go.
*  For those that are really tight for money, there IS an entire module (11 minutes long) that covers all aspects of FREE traffic (and the getting of it – see screenshot below). If you go down this route, my advice would be to RE-INVEST all of your profits from the FREE traffic back into paid traffic so you can scale up faster (in other words, don't go shopping with your profits from the free traffic – at least not at first).
* This IS actually what Brendan is currently doing to make over $9,000 a month so you can be confident you are following a system where the creator is practising what he preaches.
* It doesn't take much time to maintain a consistent income with this system. You just need to put aside 15-20 minutes a day to keep it all running smoothly.
The Cons
* You will need to have an autoresponder account – it will pay for itself many times over. You can get the autoresponder I recommend free for 30 days by clicking here.
* If you don't purchase the "Done-For-You" package of 40 emails which is available as an upsell you'll need to write emails yourself and put them into your autoresponder. If you're comfortable with email marketing, then that won't be a problem but if you're a beginner you're going to save yourself a LOT of time by just biting the bullet and getting the upsell package Brendan is making available to you (it's entirely your choice).
* You won't make $9,000 a month overnight and Brendan isn't promising you that either. However, it is entirely possible to build up to $300+ per day and once you're at that point it's only going to take you 15-20 minutes a day to maintain it (this is when this system goes from being something that helps you pay the bills to becoming a total day job killer). Over time your monthly income WILL keep increasing as long as you stick to regularly working 15-20 minutes a day. No sweat really is it – some people spend 16 hours a day trying to get a bricks-and-mortar business off the ground and STILL fail. With this system you just need to commit to 20 minutes a day and everyone can do that including the most busy of people reading this review (no excuses if you want to make something happen).
Zero Hour Work Days Review – Concluding Summary
This is the first product released by Brendan Mace and like many musicians, their first release is often their best and his followers have been crying out for him to release this course which pulls back the curtains on EXACTLY what he is doing to live the lifestyle that he has. The great thing about this course is THIS IS what Brendan does to make over $9,000 a month with affiliate marketing, working just 15-20 minutes a day while he is living the 'travelling lifestyle' in the sunshine. Yes, while most people are slaving away 9-5 in a cubicle, Brendan is able to do whatever he likes after he's put in a back-breaking 20 minutes of daily work. It's a hard life but somebody has got to do it eh 🙂 Now he's offering you the same opportunity if you want to take it?
This is a quality course, which does actually live up to its claims and it's very possible to earn a full-time income working part-time by following it. Obviously, in the early stages you're going to have to grease the wheels and get traffic flowing to your sales funnel, but once that's all in place and you have your autoresponder sequence plugged in (easily done if you get the 40 email 'done-for-you' package upsell) you'll have leverage from your list and your autoresponder will be doing the "grunt work" for you. This course has not just been put together for another launch, it's refreshing to see this is what he is really doing to succeed with his online business as an affiliate marketer (the jaw-dropping thing about it all is how little time it all takes to maintain).
Get my blog posts delivered by Email