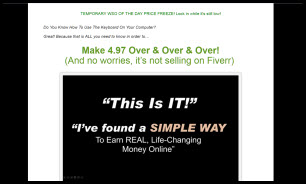 Make $4.97 Over & Over & Over
Rating:


Product Reviewed: Make $4.97 Over & Over & Over
Creator: Tom E & Stephen Gilbert
Product Type: One-Time Payment (Non Recurring)
Click on the play button below to watch the video.
When you're starting out online, often you don't want to get bogged down with all the technical aspects of building websites, setting up blogs or creating products complete with sales pages. What you really want is just to see some dollar amount consistently coming in, ideally even when you're doing other things.
This does two key things:
1) It confirms to you that this whole 'make money online' thing is more than just a fairytale.
2) It puts cold hard cash into your bank account so you can re-invest it into your online business, go shopping with it or pay the bills. Heck, you can do whatever you want with it ONCE you have the money.
Tom E and Stephen Gilbert have created a product called "Make $4.97 Over & Over & Over" which teaches you 5 different methods you can follow that will generate $30+ per day income online with each method generating an AVERAGE of $4.97 per sale. In this review I am going to investigate each of these methods detailing what you get when you buy this product. If you would like to visit the website and check out the product which reveals these 5 money-making methods, you can do so by clicking here.
Now before I continue further, you need to know something. This is a REAL review – I have purchased this product. If I'm going to review something I don't do it blind and this is no exception, so just to prove that here is my purchase receipt for this product below: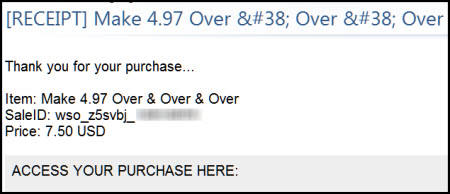 What Is Make $4.97 Over & Over & Over?
It's essentially a product which contains 5 different methods for making an average of $4.97 a time consistently online (Note: NONE of these methods are using Fiverr). The criteria Tom E and Stephen Gilbert used are that none of these methods require previous experience, significant learning curve and they aren't about starting an online business. What they are in real terms is a cashflow method to bank an average of $4.97 a time so you can get up to the $30+ a day income online without getting bogged down with all the technical aspects traditionally associated with making money online.
Although these methods aren't about generating THOUSANDS of dollars a day online, the creator of the product did reveal on the sales page that one of the methods has made him $8,000 (see screenshot below) so if you particularly like one of the methods there is potential to scale it up and knock it out of the park.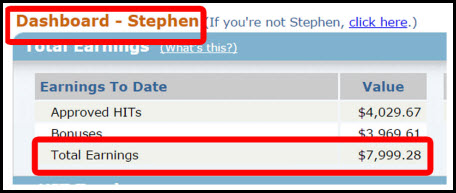 So, this product is about showing YOU simple methods to make lots of sales averaging $4.97 a time without having to build, plan or design anything. The training for each of these methods is in video format and viewable without having to download any of the videos to your computer or device. It also involves trading small chunks of your time in exchange for bringing in regular payments.
The video training is not really long-winded, with each training video averaging around 7 minutes in total, so you'll be able to watch a video detailing one of the methods and then put it into action. Personally I welcome training where each video is not much longer than 10 minutes. There's nothing worse than having to watch a 2 hour webinar or presentation just to start making something happen.

Make $4.97 Over and Over and Over – What I Think Of The 5 Methods
The quickest and easiest way to give this product either a thumbs up or thumbs down is to go through each of the 5 methods. Since this is what the product itself is made up of, it either stands or falls on these methods, with each of the methods representing 20% of the product. What I am looking for here is a GOLDEN NUGGET in the form of one or two of the methods. It does not matter if I think one or more of these methods is not as good as another. What does matter is whether I think at least one of these methods is the real deal.
Remember: You only need one effective method you can duplicate to make the purchase of this product well worth many times the initial small investment (since this product is currently less than 10 bucks you only need 2 sales of $4.97 to be in profit). While I can't reveal EXACTLY what these methods are, since that would be unfair to the creators of the product itself, what I can do is give you a brief insight into what I think of each method itself. Okay, so let's go through each of these methods and let the fun begin 🙂
Method 1: The Social Success Seller

This method is essentially about providing a service to clients. The method reveals where you can do this for your customer and also where it can be sold. My instinct on this particular method is that it probably worked really well at one time but some of the places where it can be sold have been cracking down on this type of service as a seller (which is what you would be). That's not to say it's not possible – indeed the video shows you where people are still making sales with this, but I think the method COULD be time consuming versus the returns. Overall if I were following this product to make lots of $4.97 sales I would personally probably skip method 1 and move onto the other methods as this is the one I would be least likely to follow of the 5.
Method 2: The Creator Of This Product Made $8,000 In 5 Months With This Method
Essentially what this method boils down to is trading small chunks of your time to complete tasks for which you receive monetary compensation. This is the method that the creator of this product made $8000 with so we know that it both works and that you will get paid when you follow this method. You can also hand-pick what types of tasks you want to do so it plays to your strengths, meaning you can get those tasks done quickly that you are proficient at and get paid.
Inside the video training he shows you how to sort out the highest paying tasks available. Some of these tasks can be completed in as little as a few minutes. He also reveals in the video that he made the $8,000 with this method over a 5 month period (he shows you this proof by logging into his account), which averages out at $1600 per month. If you extrapolate that out to a full year that would equate to $19,200 which to some people is a full-time income. It's really easy to sign up for an account to get started (takes about 2 minutes to sign up online and then you just wait for acceptance following a review of your application).
Note: This method is most suitable for people in the US (ideal) and India. Outside of those countries it can be more difficult to get your application accepted.
This method gets a thumbs up from me if you're in the US (especially) or India because there will be no shortage of work for you to complete and receive compensation for. It's also the method that allowed the creator of this product to 'get off the breadline' and invest in himself so he could have a real career in internet marketing. If you're reading this right now and you don't have any money to invest in internet marketing, this will give you the funds you need to make all that happen provided you are prepared to do some work.
Method 3: The Sneakiest Ninja
This is a method that should average out to around $5 a day which is a few sales a week. You don't need a website and you can scale with this method. You can either do this on your own website or on a well known website online which is revealed in the course. Basically you are helping people while benefiting from the spike of activity in the marketplace. Now I know this may sound a bit mysterious to you right now, but when you follow the method it's all good common-sense stuff.
It shows you how to be ahead of the market by being aware of what is going to be happening in the near future and capitalizing upon that. Two key resources are revealed inside the training so you can be two steps ahead of your competition. All you do then is a bit of work to position yourself as a conduit for all the traffic that will be coming in and that means sales and passive profits in the bank for you. This method definitely works as you will see when you purchase the product. Another thumbs up from me.
Method 4: The Challenge
If you are quick and efficient at writing without getting distracted then this method may be for you. The training video reveals where you can find work (it actually shows you two places) and how you can easily do the research and put the content in your own words quickly which is a fast way to overcome writers block whilst also pumping out content you are getting paid for. If you don't like to write it also shows you how you can arbitrage work which means you won't actually be doing any writing yourself but being an overseer or 'project manager' that makes a profit on the difference between what someone is paying and what you are paying someone else to do the work. There's no doubt there is plenty of work available in method 4 so it does work especially if you are a fast writer. A thumbs up if you like writing or managing jobs to profit from the difference on an arbitrage basis.
Method 5: The Alert
For this method you need a basic website but the method itself is free and it makes sales. The creator revealed inside the video training that he made $50 in a weekend by doing this. It takes a few hours to set it all up. One of the cool things about this method is it shows you how to get alerted in the marketplace where people are interested and how you can drive traffic back to your site without being spammy. You are providing value to those people whilst benefiting from the traffic and resulting sales that you will get. Again, this method definitely works so it's a thumbs up but you will need a website set up to make this one work for you.
What About The Upsells?
There are a few upsells available to anyone that purchases the main product but they aren't a pre-requisite for purchase in order to make any of the 5 methods work for you. With all that said, I am going to cover a couple of the upsells here which I think you would find useful.
$100 A Day Power Call – There is an upsell which is a power call which runs through all the methods that bumped the creator up to and over the $100 a day mark so if you want to go for $100+ a day with any of these methods, it would be a useful one for you to purchase. This is the first upsell you will be presented with after you have purchased the main product and it costs $27. If you feel like you need an extra helping hand and want to go from $30 or so a day to $100+ this one is worth picking up as an added value compliment to the main product.
$100K in 90 Days Case Study – This is a VERY interesting upsell which is a case study which shows you how to launch your own product and make $100k in 90 days. This is a very useful upsell to purchase if you want to be a product vendor yourself and it's never been released to the public before. The cost of this upsell is $47 and inside the case study it reveals the method, traffic source, funnel and everything else they did to make it all happen. If you never want to create your own product then obviously you don't need this, but if you do have ambitions of releasing your own product or would like to see how all this is done, then it's a cheap-way of getting a step-by-step blueprint of what is required to make big numbers happen as a product vendor in internet marketing.
The Pros
*  There are 5 methods revealed inside this product so you can pick and choose which ones you want to follow to make $4.97 average income per time to get up to $30+ a day.
*  None of the 5 methods require techie-stuff such as setting up an autoresponder or creating your own product. One of the methods does require that you have a basic website setup but the other 4 can be done without a website or any previous experience/technical knowledge
*  All of the methods are suitable for beginners new to making money online.
*  Some of these methods can be scaled up so you can earn $100+ day over time (if you want to earn $100 a day you should also purchase the first upsell offered after you have purchased the main product)
*  There is no shortage of work available so you won't suddenly run out of tasks to do that will bring in $30+ a day online at an average of around $5 per time.
*  The video training is short and to the point. With each video training averaging just 7 minutes each, you can quickly get up and running with any of the 5 methods.
The Cons
*  This isn't about building a fully-fledged online business empire. This product is about showing you methods that work which bring in small amounts of money ($4.97 average per time) on a regular and consistent basis without having to build a business.
*  You will have to invest small chunks of time in exchange for money with these methods.
*  Out of the 5 methods, I personally like 4 of them. The first method I would probably skip in favor of one or more of the other 4 (but that's just me – your experience may be different)
*  Method 2 is great and the creator has had awesome success with it but it's only really perfect for people living in the US or India. If you're in a different country to those two it can be more difficult to get accepted.
Make $4.97 Over & Over & Over – Concluding Summary
This product is a solid offering of 5 methods which do live up to their claims of being able to generate an average of $4.97 per sale, although method number 1 is my least favorite and I would skip that one in favor of one or more of the other four methods. In particular, method 2 is very interesting in that the creator of the product made $8000 in just 5 months (definitely give this one a go if you're in the US or India) and showed proof of this by logging into his account in the video training. This method saved him from the breadline and allowed him to pursue a career in internet marketing, so if you're struggling for cash I would probably look at method number 2 first. I also like method 3 and 5 because they are both neat ways of bringing in both sales and passive income. Method 4 is one to look at if you really enjoy writing content or like to manage writing projects. There is an upsell available which is a power call which runs through how the creator scaled up to over $100 a day using these methods, so that is a nice complimentary upsell for anyone that wants to move up to the $100 a day level by following the methods outlined.
These methods are suitable for beginners who have no previous knowledge of making money online or technical expertise. All of the training videos are straight-forward and easy to follow and you can quickly make up your own mind whether you want to focus on a particular method or a number of them. There is no reason why a beginner should not be able to make $30+ a day following these methods providing you are willing to invest some 'sweat equity' in terms of time to make that income come in consistently. In particular method 2 is proven to deliver consistent income and payouts and both methods 3 and 5 are surefire winners for sales and passive income over time.
If you have enjoyed this review and found it useful please share it and recommend it to others that may be interested in making an income online.
Get my blog posts delivered by Email