Today I want to ask YOU a question. What's stopping you from succeeding online? What's the biggest challenge/obstacle you think you need to overcome? What's the thing between you and achieving your dreams when it comes to online business?
Be Honest – Not With Me, With Yourself
Be absolutely honest with yourself on this one. Don't say that you don't have enough time, because everyone can make time if they really want to. What is it? Really?
The only thing that will ultimately stop you from achieving success online, is YOU. It isn't a technical issue or lack of knowledge, it's your own mind conspiring against you ( if you let it ). By removing a perceived obstacle, you open up the floodgates for achieving success.
Patience Is A Virtue
We all want overnight riches. This is something that is possible if you are a guru who is well established and doing a big product launch. Well it is and it isn't. What people don't see is the months of hard work that go into that day when the 'guru' makes a million dollars in 24 hours. What people don't see is the months and often years of hard work it took to reach that landmark in their career. What people don't see is the costs of creating the product and all the affiliate commissions that come out of the bottom line. Some marketers never make it. For the regular guy and girl the chances are you have a website or you are writing articles and you want to make money with it.
If you don't have  a website, it's not a necessity but really… honestly, you need to get one.
Once you have one you need to stick at it long enough for it to hit paydirt.
Here's an example of one website I setup. Here are the traffic stats for March 2010.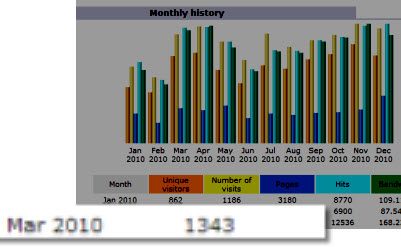 1343 unique visitors for March 2010 or around 45 visitors a day. Some people would be quite happy with that.
This is what happens when you stick with it and keep doing the right things… Traffic stats for March 2011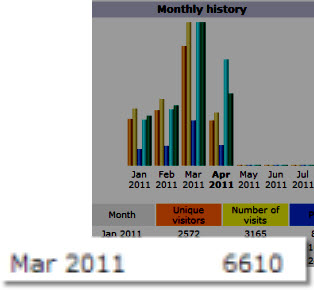 6610 unique visitors in March 2011 or around 220 a day. My target is 500-1000 uniques a day. Also forget Adwords when you are starting out, it's getting harder and harder to make a return with that and most people just burn their money up.
Decide You Will Be Successful
Once you make the conscious decision to become successful in any walk of life including online business, you have made that leap of faith that is required for an entrepreneur to create their own destiny. You have got to believe.
Further Learning
Never stop learning. Always take at least a little time out of your day to learn something new that will help you with your online business. What area of internet marketing would you like to learn more about? ( traffic generation, adsense, seo, affiliate marketing, list building, blogging? etc )
Let me know by posting a comment below. Don't be afraid to say exactly what it is because by doing so you'll be helping others that wanted to say exactly the same thing as you but didn't.