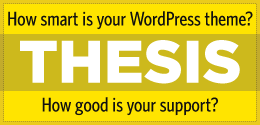 If you're looking for a paid blog theme, you can't do much better than investing in the Thesis theme.
In fact this blog is now running on it. I've got to do a bit of tweaking to it, but I had the blog changed over to this theme in a matter of minutes. In this Thesis review I am going to cover what you get with it, the options available and whether it's worth your hard earned cash.
Why Invest In The Thesis Theme ( Free vs Paid )
It's true you can get some pretty good free themes, but I've never seen such a versatile platform on the backend as this one. You can tweak and change things to your hearts content and it's as simple as manually clicking a few options and hitting the "Big Ass Save Button" ( that isn't my wording by the way, it's what it actually says on the backend when you want to save something ).
The "Clincher" though is that this theme is simply the best one out there ( in my opinion… and if you want to do some digging you'll find other well known bloggers using it. Oh and Matt Cutts as well ) for search engine rankings because it's optimized so well 'out of the box'.
So buy this theme if you want to quickly and easily change the look and layout of your blog and you want better search engine rankings from a theme that performs.
What Else Can You Do With Thesis?
Well, you can stop it looking like a WordPress blog by doing some tweaks in the admin area. A few minutes of your time is all it takes. Interested in writing salesletters? You can customize this theme in matter of seconds to look just like a regular salesletter. No problem at all ( again I've seen a good number of internet marketers doing this ).
You can also add drop down menus at the touch of a button. See the nav menu at the top? I can quickly change that to include drop-downs if I want. The sheer multitude of things you can do to change the look and appearance of your blog is staggering ( and fun – how many times have you been able to use the word 'fun' when fiddling with a regular Wordpress theme. Usually it's just plain frustrating unless you're a 'tech' head ).
You can also change to 1,2 or 3 columns and put a header in without having to mess with the CSS. I added the header on this blog in less than 60 seconds. "Simples" as the Meerkat in the advert would say 😉
Have a good look at all the custom looks you can achieve with this theme by heading on over to the Thesis site to get a full idea of what is truly possible. If you decide to buy this theme there are two options available.
Thesis Package Options
There is a Personal license option for $87 or a Developers license option for $164 ( not bad when you consider you can have as many as you want for the one-time payment ).
I personally bought the Developers license because I want to be able to install Thesis on more than one blog. It's a more costly option but it will quickly pay for itself. If you only want or have one blog with no intention of setting up another in the short-medium term, go for the lower priced option. If you want multiple blogs ( i.e. 2 or more ) with Thesis running on them get the developers license.
Here's proof that I put my money where my mouth is…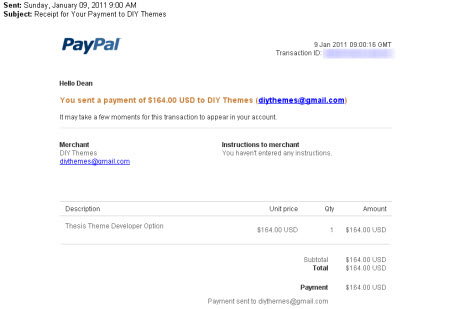 Future upgrades are included for free when you purchase Thesis. When you take that into account and the awesome SEO capabilities, as well as the ease at which you can change the look and feel of your blog, the Thesis theme is well worth investing in. It's a 'must' for bloggers that want a seriously good ( in my opinion the best ) paid theme they can get up and running quickly with.
Hope you found this Thesis review useful. Let me know how you get on with it.
http://www.dean-james.com/recommends/thesis
I know there are a lot of people also interested in Adsense templates so they can build niche sites with a high CTR.  If so, I have an inexpensive package for you. Watch this Niche Adsense templates video to see what's included.