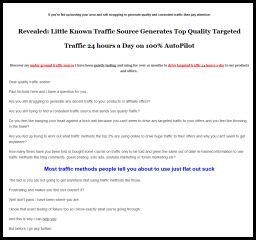 24 Hour Traffic Machine
** Important UPDATE: This product is currently not available to buy so rather than have a link that does not work, the links in this review are now going to the alternative TRAFFIC product I highly recommend **
Product Reviewed: 24 Hour Traffic Machine
Creator: Paul Nicholls
Product Type: TRAFFIC Generation Course
One-Time Cost: Less Than $10 (at time of writing)
One-Time-Offer (Optional): Available for a few days – LIVE Traffic Case Study (Includes demonstration of funnel and pages used).
Click on the play button below to watch the video.
Please note: This is a REAL review of this product. I have purchased it (see proof below) so unlike other reviews you may read on the internet, this one is 100% LEGIT.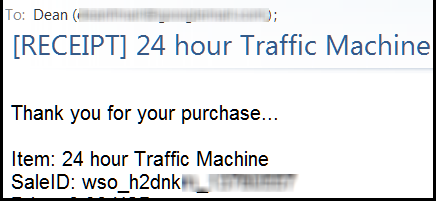 In this review I am going to be covering a product released by Paul Nicholls that has just been released called "24 Hour Traffic Machine". This product is a course about a traffic source that Paul Nicholls has been using since December of last year. Paul says that this is suitable for traffic to any niche (not just internet marketing). If you would like to check out this traffic course you can do so by clicking here.
Before we dig into what this course is all about in detail, I am going to give you a quick background on its creator.
Who Is Paul Nicholls?
Paul is an established british full-time internet marketer who has been around for a number of years now. If you are a regular in the Warrior Forum you will have no doubt seen his name mentioned or his input in the forum. Paul has released a number of products over the years including a list building course which sold hundreds of copies and other products in other areas including affiliate marketing. In short, he's a creditable force in the industry.
What Is 24 Hour TRAFFIC Machine?
Well, the clue is in the name really 🙂
It's a new course which REVEALS a traffic platform/source that Paul has been using since December 2015. At the time he wanted to scale things up and needed a traffic source that was both consistent in its results and scalable as the profits came in. Up until that point he had been using mainly solo ads to drive traffic to his web properties but found from personal experience that the effectiveness of solo ads were not as effective as they once were, which led him to look for a new TRAFFIC source.
He stumbled into this new traffic source and found, to his surprise, that it worked EVEN BETTER than solo ads did. After 10 months of testing and tweaking, he emerged from his underground internet bunker and decided to pull back the curtain on this new traffic source by creating this course, the 24 Hour Traffic Machine.

What You Get When You Buy 24 Hour Traffic Machine
You get access to 4 training videos that walk you through this new targeted traffic source and teach you HOW to use it effectively to maximize your profits. You are shown how to use the platform for best results and also how to optimize your campaigns.
Inside The Members Area
Once you've purchased this traffic course and you're inside the members area you are presented with 4 videos that you can play straight away without having to download them to your computer. See screenshot below:
You aren't getting fireworks in the members area (would you expect to for less than 10 bucks?) but you ARE getting valuable "solid-content" training videos that are instantly accessible and "play-ready" so you can focus on the learning followed by the doing. The screenshot above shows Video 1. There are 3 more after that, obviously  🙂
What About The Traffic Source? Is There A Limit To How Much Traffic Can Be Generated?
There's plenty of traffic available 'on tap' and that's the beauty of this platform. As your campaigns become profitable you can re-invest and scale. If you could make $2 from $1 how many dollars would you invest? This is where paid traffic wins over free traffic. With free traffic there is a REAL cost in terms of your time and usually it's not possible to leverage it. With this traffic source you can increase your daily marketing budget and that translates to your bottom line in terms of much money you can make from your campaigns.
Who Should Buy 24 Hour Traffic Machine?
This is suitable for beginners right through to more advanced marketers that want to add another traffic source that has already been tested and proven. Anyone that wants to learn how to drive quality traffic to virtually any type of offer or page on the internet. This isn't just suitable for those in the internet marketing niche – it can be used for any niche. The types of offers you can use this platform to drive traffic include CPA, list building (squeeze pages), product sales pages, affiliate offers, selling services, memberships, offline products and services, fan pages, social profiles and more. As you can see, the types of web properties you can drive traffic to using this platform taught in the course is HUGE.
Who Should NOT Buy 24 Hour Traffic Machine
This one is easy to answer. If you don't need a new source of TRAFFIC and you already have more traffic/sales than you can handle, this may not be for you. Anyone that has a few bucks to spare that needs to get TRAFFIC to virtually any type of offer should be interested in this. Indeed if you're SERIOUS about getting quality traffic and making consistent sales, you should not overlook a new traffic source that has already been proven to be consistent and scalable in the marketplace.
Note: This traffic source is not free so you will need to allocate a few dollars to get going ($5 a day would do it).
Pros
Traffic Platform is easy to learn and suitable for beginners
Can be used in virtually any niche (not just IM)
TRAFFIC from this source is scalable and high quality/targeted.
You can start driving traffic to your web pages and offers the same day if you want to.
Cons
This is NOT a free traffic platform (you will need an advertising budget of a few dollars to get started)
There is a modest learning curve. Don't try and do this without going through all 4 videos in the course (set aside a couple of hours)
24 Hour Traffic Machine – Concluding Summary
While it would be unfair of me (for obvious reasons) to reveal the traffic source being revealed and taught in this course, I can say I personally know very experienced marketers that have been and are using this successfully ( you don't hear them talk about it very much – that's possibly because they don't want everyone to know about it?) as part of their overall traffic strategy. So you can take it from me that this is a bona-fide traffic source that is scalable and it's possible to start with an advertising budget of a few dollars.
The 4 videos in 24 Hour Traffic Machine walk you through what you need to do to set up successful campaigns and there is also the option of picking up a one-time-offer which is a live traffic case study where you get to look behind the scenes at everything Paul did including the funnel and pages used.  With this training you could realistically be driving traffic to offers in practically any niche in the next few hours (no more waiting around for vendors to start sending you traffic) and scale up over time with the profits.
Overall a solid product at a low price gets a recommendation from me as a valuable training to learn a flexible traffic platform that is suitable for beginners and marketers that want to add a new high-quality targeted traffic source to their armory. This is suitable for most niches including internet marketing.
** Important UPDATE: This product is currently not available to buy so rather than have a link that does not work, the links in this review are now going to the alternative TRAFFIC product I highly recommend **
Get my blog posts delivered by Email