>> Click HERE to Register For Your FREE Yoonla Account <<
One of the aims of my blog is to provide you with ways of making an income online and highlight products and programs you can join which actually work (the rest is upto you). One of the ways I am doing that is to actually go through the products and programs as a user/customer.
This particular membership represents an excellent and real opportunity for anyone, regardless of experience, to start earning online working from home and build a growing income centered around solid marketing fundamentals and principles so you can live the digital lifesyle that may have previously eluded you.
Yoonla is a membership with training that you can join for free which includes training on living the digital lifestyle and making an income online with affiliate marketing. It also has a CPA affiliate program that pays you (as an affiliate) for referring people that take a specific action or actions.
Becoming a Yoonla VIP has a number of advantages, one of which is that you'll qualify for their CPA program and also earn commissions on upgrades. If you are new to this membership or you haven't joined yet, you can read all about it in my Yoonla: A Beginners Guide to Getting Started feature.
The rest of this article is going to assume you have either joined Yoonla as a free member ( which you can do right now by clicking here ) or you are already a member and you are interested in upgrading to become a Yoonla VIP. What follows here is an update on my progress and results to date with Yoonla in my first two weeks and exactly why I think now is a great time for you to upgrade to VIP while we're still in phase one.
Yoonla VIP – My First Two Weeks
As you can see in the screenshot at the beginning of this article, I have made $334 in commissions with Yoonla for the month of November. I actually got started with promotions on the 18th November – the reason this was so late in November is that I didn't upgrade to VIP until mid November so I effectively made $334 commissions in 2 weeks (18 Nov – 31 NOV) starting from scratch.
Becoming A Yoonla VIP – What Does It Cost?
I have had a few people asking me how much it costs to become a VIP. That's a fair question and one I would ask myself. At the time of writing they are offering a limited number of custom setups for free ($297 Value) which gives you the complete Yoonla Foundation System.
There are just 3 steps you will need to complete in order to become a VIP which are as follows:
Step 1: Set Up Your Hosting Account
Step 2: Set Up Your Autoresponder Account
Step 3: Fill In The Custom Setup Form and Submit It (so they can connect the two services for you).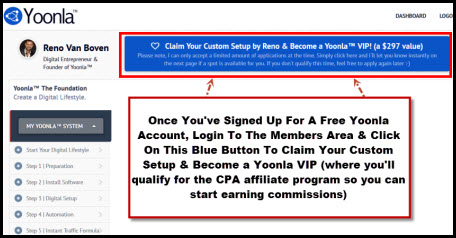 >> Click HERE to Register For Your FREE Yoonla Account <<
To upgrade to VIP once you're logged in, click on the big blue "Claim Your Custom Setup by Reno & Become a Yoonla VIP ($297 value)" at the top of the page and follow the instructions.
On the custom setup form enter my affiliate id which is 59eb48916af92 to make sure you are on my team so I can help you.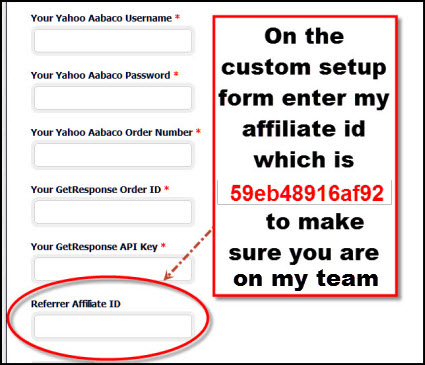 The Custom Setup itself is free but you will have to pay a small monthly fee (less than $25 a month in total) for hosting and autoresponder services. If you already have either hosting or an autoresponder you are currently using, you will still need to set up the recommended hosting and autoresponder services in order to be upgraded to VIP and qualify for their CPA program.
I highly recommend doing this as you will get $4 and $2 commissions for qualifying newly referred members and receive commissions on any upgrades in addition to the Custom Setup and everything that it includes when you become a VIP member.
You will get paid $15 commissions for any VIP upgrade referrals.
You will also get paid $10 commissions for any sub-affiliate VIP upgrade referrals.
To demonstrate how this works in practice let's say you refer someone called John from the USA who confirms their membership and then goes on to upgrade to VIP. You will earn $4 for the confirmed lead referral and $15 commissions as a result of John upgrading to VIP.
Let's then say John goes on to refer 10 people over time who later upgrade to Yoonla VIP's. Because you initially referred John who upgraded to VIP, you get paid $10 per VIP referral that John makes, which in this example means you'd earn an additional $100 (10 x $10).
So as a result of referring John you've made a total (over time) of $119 (10 x $10) + ($4 + $15) = $119. If John referred more than 10 people who upgraded to VIP obviously your commissions would be even higher than the hypothetical example above.

Let's go back to 'cost' for a second. Here's what I pay for those two services.
1) Hosting – There a few different options available to you here. You can either pay for the full year which includes a free domain. They are offering this for $3.99 a month for the first 3 months and $7.99 a month for the next 9 months which by my calculations works out at $83.88 for the entire year (or an average of $6.99 month). Personally I purchased my own domain name for around $10 and paid the monthly hosting fee of $9.99. If you want to save $3 a month and get a free domain go for the yearly option (I'm just telling you what I did).
2) Autoresponder – $15 a month and believe me it's worth every penny (or should I say cent) because you get those free members added to your email campaign which means your list is growing automatically over time. I am just over two weeks in and I already have 148 subscribers.
So in total I am paying $24.99 a month to be a VIP member which really is a small investment for anyone that wants to make a growing income online which is what this program enables you to do. If you go for the yearly hosting option at current pricing, that will bring your overall cost down to $21.99 a month ($3 less per month than the monthly option). You only need 7 leads a month to cover your costs which is really easy to do (I've added 148 leads in 17 days so that gives you an idea of what's possible).
If you are deliberating at this point as to whether to spend a few bucks, this is what I would say to you (call it 'tough love' :)). If you aren't prepared to invest less than $25 a month to start your own online business you should really question your commitment as it's really a very small amount to outlay and you NEED hosting and an autoresponder service anyway (believe me you'll be glad in the future when you can send out an email to hundreds or thousands of subscribers with the push of a button).
Incidentally that bring me to another powerful aspect of this program which is that you will be automatically growing your email marketing list at the same time people join Yoonla. This is done in a very clever way by connecting up your autoresponder to Yoonla with its API and adding confirmed referrals to your list. Once you have an email list you can contact your subscribers whenever you want and it's YOUR list which makes it your number one marketing asset online. Do not underestimate how powerful this is over time as your list grows in number as a result of your promotional efforts.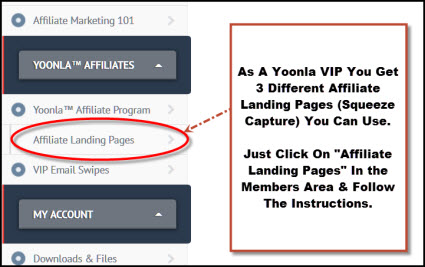 Remember: Not only do you earn $4 and $2 commissions for newly referred members (in qualifying countries) but you also get commissions on upgrades when you're a VIP member (see my getting started in Yoonla article for a full breakdown).
How To Promote Yoonla To Make Regular Commissions
Training on promoting Yoonla so you can start making those $4 and $2 commissions as well as upgrade commissons, when you've upgraded to VIP, is included in the Yoonla Foundation Members Area and it's called "Traffic Profit Formula".  I highly recommend that you go through this entire training once you've upgraded to VIP as it tells you everything you need to know to start driving traffic.
If you have an advertising budget I would also recommend running solo ads. For more information on solo ads you can read my article on this blog: Solo Ads – What Is A Solo Ad
If you don't have any money for advertising you can start by driving traffic for free. There are tons of ways of doing this including posting on social media, tweets, FB Groups, starting your own blog, contributing to forums and including a signature with a link (always check forum rules before doing this) and so on. It's really very easy to get started promoting once you're a VIP, you just need to take action. If you think about it all too much, you'll just end up procrastinating and not getting anything done.
Follow The Training In The Yoonla Members Area
Take ACTION
Rinse. Repeat
Stop THINKING and START DOING.
>> Click HERE to Register For Your FREE Yoonla Account <<
How You Get Paid
All approved commissions are paid to Yoonla VIP members by Paypal every month (normally between 22nd and 28th of the month).
You will get paid by Paypal at this time for the $2 and $4 commissions earned from the prior month and both the $15 & $10 commissions for the month prior to that.
You also get access to your affiliate dashboard which shows you loads of really cool stuff including running totals on commissions and a list of transactions registered by the system.
So as you can see, becoming a Yoonla VIP includes a number of perks, not least of which is that it qualifies you for their CPA program so you can start earning those $4 and $2 commissions as well as those upgrade commissions.
If you aren't already a free Yoonla member, register now at the link below:
If you are already a free member and you haven't upgraded to VIP, login to the members area and click on the big blue button to claim your free custom setup at the top of the page.
On the custom setup form be sure to enter my affiliate id which is 59eb48916af92 to make sure you are on my team so I can help you.
Now is a great time to upgrade and become a VIP Yoonla Member because this program is currently in Phase One which is the Foundation Phase. In the not-too-distant future Yoonla will be moving to Phase Two, details of which will be released in due course, so now is a very exciting time to be a member.
If you have any questions please contact me or leave a comment below and I will get back to you. Also when you have upgraded to VIP please do contact me to let me know so that I can help you 🙂
Update: Since I wrote this blog post a few days ago my commissions with Yoonla have gone over $1400 in less than 1 month. Earlier today I took a screenshot of my earnings when they were at $1499 and I am also having regular $100+ days (see picture below) since I became a Yoonla VIP. At the time of writing I already have over 500 email subscriber I can contact whenever I wish.
I'm not posting this to brag but to inspire you into upgrading to VIP (if you haven't already done so) so you can start earning commissions with Yoonla just like me.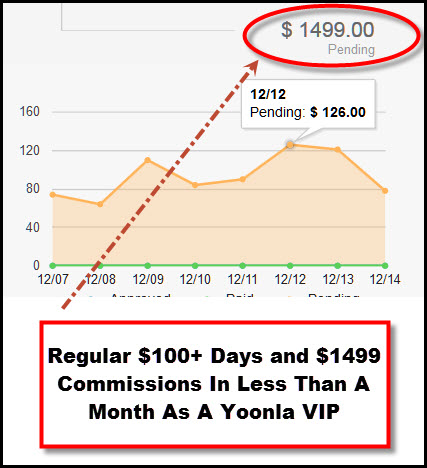 $1499 commissions in a month is totally AWESOME I'm sure you'll agree. Do you know what is JUST AS AWESOME THOUGH?
Adding 506 email subscribers to your list on autopilot at the same time, which is what I've done (and you can do it too with Yoonla).

Step #1: If you're not already a Yoonla member, register for a free account by clicking here.
(You'll need to confirm your email by clicking on a confirmation link so use an email address you check regularly)
Step #2: Once you're a free member login to your account and upgrade to VIP (see steps earlier in this post).
Step #3: When you've been upgraded to VIP contact me via this form or on Facebook.
Thanks for reading this article on upgrading and becoming a VIP Yoonla member. If you've found it useful or you think it would be useful for other people that you know who want to make an income online working from home, please share it using one of the buttons on the left and/or leave a comment! I look forward to welcoming you aboard as a VIP (sounds good doesn't it :)).
Already upgraded to VIP? Read my Yoonla VIP Guide for info on setting everything up as well as driving both free & paid traffic to generate Yoonla referral commissions.
Get my blog posts delivered by Email