This Yoonla VIP guide has been created and is specifically for people already members of Yoonla that have taken action and upgraded to VIP.
If you aren't already a Yoonla member, please CLICK HERE for more information on getting started and creating a free account. If you ARE a member, but you have not yet upgraded to VIP, simply login and follow the instructions inside the members area to upgrade.
If you're in a hurry you can also register for a free Yoonla account and training if you haven't already done so by clicking here.
* The Following Now Assumes You Are ALREADY a VIP Yoonla Member **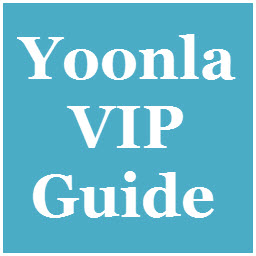 First of all, I would like to congratulate you for becoming a Yoonla VIP which has now also qualified you for the CPA program. This means you can make generous CPA commissions on referrals and upgrades as well as commissions on products released by Yoonla in later phases of the program.
At the time of writing this VIP guide, Yoonla is currently in Phase One (The Foundation Phase) with Phase Two being launched in the near future, which is very exciting for all involved.
I joined this program in Mid November 2017 and so far I have generated $1700 commissions in a month and added 669 subscribers to my email list automatically and starting from scratch. These numbers are only going to go up over time as the power of a growing email list helps drive further sales and upgrades.
I am going to be adding further updates/tips/training on this blog and on YouTube so please subscribe to my YouTube channel so you are notified of new videos as they go live (also be sure to bookmark my blog). Incidentally there's already some training videos on my channel on driving targeted traffic with solo ads, so definitely check those out as well.
Step #1: Setting Up GetResponse (your autoresponder account)
One of the reasons an autoresponder is so powerful is that it allows you to make contact with your subscribers automatically at pre-determined times and in a specific sequence. You should set up your GetResponse autoresponder so that it sends out a series of emails encouraging members that have joined through you to upgrade to Yoonla VIP.
I KNOW you will already be keen to get started promoting your affiliate link, but do this step FIRST so that it's already in place.
The way GetResponse works is it sends out the first email on Day 0 and you want that to go out immediately when a new member joins through you. Set up your first autoresponder email to go out on Day 0 and it should look something like this:
Subject: Congratulations on Joining Yoonla!

Hey,

Congratulations on becoming a Yoonla member where
YOU are now going to learn how you can start living the digital
lifestyle just like me.

Depending on where you live in the world, I just made
either $4 or $2 from you joining.

Would you also like to start earning $4 and $2 commissions?

The good news is you can start earning those juicy commissions
when you upgrade to VIP.

To upgrade to VIP just login now
https://app.yoonla.com/foundation-members/

Then click the big blue button that says "Claim Your Free Custom Setup
by Reno & Become a Yoonla VIP (a $297 value)"

Start earning $4 and $2 commissions per lead today as a VIP member.

[Insert Your Name Here]
Don't just stop at one follow-up email though. Create a series of emails that encourage new members to upgrade to VIP level.
There are a series of 3 email swipes you can also use inside the Yoonla Foundation Members Area.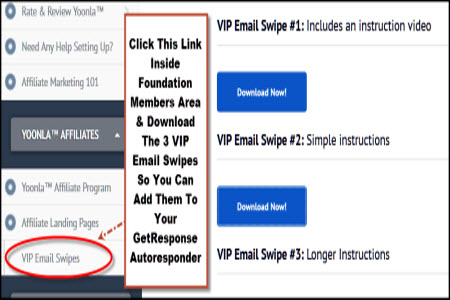 When Yoonla has completed your custom setup you will initially have one campaign in your account which is for the Twitter product. This is effectively your Twitter list.
What I recommend you do is setup a brand new campaign/list specifically for new Yoonla members and another one that you are going to move new subscribers to. For the purposes of this example let's say you now have 3 hypothetical lists (your campaigns/lists will be called something completely different inside your GetResponse account) called.
1) Twitterlist1 (example)- That's the one they set the Twitter product up on (it won't be called Twitterlist1 this is just an example)
2) Yoonlamemberslist1 (example) – This is the list that you put the api key into Yoonla for (so your subscribers get added automatically)
IMPORTANT: Do not forget to enter your GetResponse api key into Yoonla so new members are added as contacts to your GetResponse campaign. Add the API key in the following Yoonla Affiliate Panel section when you're logged into it:
My Profile => Personal Details => Additional Information => GetResponse API (enter the API in this field)
3) Yoonlamemberslist2 (example) – This is the list/campaign that you are going to be moving new contacts to after they get added to GetResponse by Yoonla. This is the one with all your follow-up emails in that encourage members to upgrade to VIP (In order to do this you will need to set up automation in your GetResponse account for these lists so new contacts added to GetResponse by Yoonla get moved to this list).
To do this just click on Automation to set up a workflow that automatically moves subscribers from one list to another. Once you've set it up in GetResponse the workflow will look similar to this (your campaign/list name will just be different).
Setting Up A Squeeze Page (Optional)
If you want, you can set up a squeeze page before the Yoonla registration page.  In case you are wondering why you would do this it's because only those that confirm their registration as a result of entering their details on the Yoonla registration page will get added via API to your autoresponder (which effectively makes your list double opt-in).
In this guide I am not going to cover doing all of this because it's not a pre-requisite but I am letting you know that it is something you could optionally do if you want to build up a list of "pre-yoonla" subscribers that you follow up with in order to encourage people to register and confirm with Yoonla.
If you decide to do this you will need to set up a new campaign/list for your squeeze page (pre yoonla).
I will add some resources to this section shortly for any of you that want to build your own squeeze page and set this up.
Step #2: Start Promoting & Earning Commissions
Well done, you're now ready to start earning 🙂
Your Yoonla CPA program affiliate link is located at the top of the affiliate panel.
Login to the affiliate panel by Clicking HERE
The first part of your affiliate link will look like this https://app.yoonla.com/foundation#a_aid= with a series of numbers and letters after the #a_aid= part of the link.
You will see your affiliate link in full next to "General (Your) Affiliate Link:" at the top of the affiliate center panel when you're logged in.
Copy and use that link as that's always the correct link for you to be using as a VIP affiliate.
If you would like to track which source your commissions are coming from simply add "&data1=source" to the end of your link. Replace the word "source" with whatever your traffic source happens to be so you can identify it.
In this case your link will look something like this:
https://app.yoonla.com/foundation#a_aid=seriesofnumbersandletters&data1=sourceoftraffic
Now you have your GetResponse setup and your affiliate link you're ready to start promoting and making $$$ with Yoonla.
Step #3: Show Me The TRAFFIC
In order to start generating commissions, driving quality traffic (targeted visitors) should be your main focus and the key to being a successful Yoonla CPA affiliate with a growing income and email marketing list.
As Yoonla is a CPA program (Cost Per Action) it will pay commissions to the first affiliate that sends them a person who goes on to register and confirm their membership with their email address.
So if someone joins Yoonla through one affiliate with an email joebloggs@joebloggs.com and you later refer that person who has already registered, you won't be paid any commissions as it will be a duplicate referral. If you were the first affiliate to refer that person you would be paid $4 or $2 commissions for that referral (depending on what part of the world that person was from).
If that referral then goes on to upgrade and become a Yoonla VIP you will also earn upgrade commissions from that referral as well as any sub-affiliate upgrade referrals.
Obviously generating traffic is a HUGE subject so I can't possibly cover it all in this guide. I will, however, point you in the right direction with some methods that work (both paid and free).
Free Traffic Methods
Facebook Timeline
If you are willing to exchange a bit of sweat equity (time) you can drive quality traffic at no cost to yourself. Of course, your time has a value so nothing is ever 'totally free' in that respect.
The first method you should consider and do is posting in Facebook groups and on your own timeline. When you think about it, posting on your timeline makes good sense as you will most likely already have a decent number of friends that read your posts.
When you post to your timeline DO NOT include any links as that reduces the reach of the people that will see your post. What you want to do instead is promote curiosity and interaction with your post to amp it up. An example of something you could post would be:
"Who would like to make $4 and $2 commissions online without selling anything? Comment "I would" for more info"
You get the idea. When someone comments on your post, reply to the comment letting them know you've sent them a message. Then send them a PM with your affiliate link so they can register and start going through the Yoonla training.
Facebook Groups
Facebook groups are awesome. Actually, I have an internet marketing Facebook group you can join for free by clicking here.
It's cool to post some info with a link in a Facebook group so you don't have to do it the 'timeline way'. There are thousands of related Facebook groups frequented by people that want to make an income online, so join a fair number of them and start posting at a sensible rate.
So this time you could post something like:
Who would like to make $4 and $2 commissions online without selling anything?
Add Your Yoonla Affiliate Link Here
The only downside to posting in Facebook groups is that it can get a bit monotonous after a while, so you may want to consider using a Facebook group poster to automate posting to groups on a daily basis which will free up your time for other promotion methods.
Click HERE to get your copy of Facebook Poster Software.
Start Your Own Profitable Facebook Group
If you haven't already started your own Facebook group then NOW is the time and it comes highly recommended.
This course called FB Group Secrets teaches you how to build a profitable Facebook group with tons of members and huge interaction inside the group. All that of course means more profits for you and this course includes 6 days of solid training and done for you tools so you can hit the ground running. I know only a limited number of copies of this training are going to be sold so get this before it is pulled from the marketplace.
Click HERE to get your copy of FB Group Secrets (while it's available).
Twitter ("Tweet Tweet")
If you've already got a decent following on Twitter, you can promote this to your followers. Don't forget to also experiment with including images and various hashtags so your tweets have more chance of catching the eye of people more likely to be interested in living the digital lifestyle with Yoonla.
If you'd like to learn how to effectively promote and make cash with Twitter but you don't know where to start, I'd recommend picking up Twitter Cash which will teach you how to do this step-by-step.
Forum Signatures
Now you need to be careful with this one as some internet marketing/make money online forums will not allow you to include affiliate links. However, they usually do allow you to include links to your own products and giveaway products you own the rights to, so you could either promote the Twitter product Yoonla setup for you and follow up to get people to join Yoonla OR you could set up your own squeeze page giving something of value away and promote joining Yoonla after the sign up.
Either way be sure to contribute to the forums and genuinely help people. Also check the rules so you know what you can and cannot include in your forum signature.
Instagram
If you get it right, Instagram can be a goldmine with a decent percentage of people going on to buy something related to the niche that you are promoting.
I'm not going to go into all the 'ins and outs' of Instagram here in this article but if you want to learn how to market on Instagram I have a full Instagram training guide available that is currently on special offer for $7. You can pick up your discounted copy of this training by Clicking HERE.
YouTube
Ah, the behemoth that is YouTube. It doesn't cost anything to create and upload videos to YouTube and this is a high quality traffic source, effectively with its own internal search engine (as you'd expect with a platform owned by Google).
You can record screen capture videos about Yoonla as well as marketing tips/lessons you'd like to share with your audience. If you have a blog you can even embed the videos on there once you've created them.
As a Yoonla member there is a YouTube marketing resource included in the members area so I would recommend going through that.
If you would like additional YouTube marketing training as well, another course I recommend if you want to become a YouTube marketing expert. It shows you how to create and get videos ranked quickly to keep commissions consistently rolling in. The creator of this course uses the same methods to make over $800 a week in affiliate commissions.
Email Signatures
How often do you send emails to people you know? Ever include a signature at the bottom of them advertising anything?
Why not advertise Yoonla in the form of an email signature when you're replying to people one-on-one? I used to do this a lot (I don't do it so much these days because I have a large email list) and it was surprising how many people would check out what was in the signature. You could even include a banner in your signature with a tag line.
Paid Traffic Methods
Solo Ads
Solo ads are a great paid advertising method to secure advertising to an established marketers list of subscribers in exchange for an agreed price. Typically you will buy a certain number of 'clicks' at a price per click from the vendor. Prices can vary from as little as 30 cents per click with the average typically being between $0.40 and $0.60 per click.
When ordering from a new vendor I would recommend initially purchasing 100-200 clicks which is typically going to cost you $40-$60 per 100 clicks. If you get good results with a particular vendor, be sure to order from them again at a later date.
I have covered advertising with solo ads in detail already on this blog so for the purposes of this training guide I am going to point you to those resources. If you want to save time and join a safe marketplace where you can buy solo traffic from a large pool of vendors, join Udimi by Clicking HERE and you'll get $5 off your first order.
I like Udimi because the funds are held in escrow until the vendor delivers clicks as agreed. It also filters out junk/useless clicks and refunds you automatically on any shortfall by the vendor. These safeguards make it an ideal marketplace for you to start buying solo advertising to build your list and generate referrals/commissions.
Also be sure to read and watch the following articles/videos on my blog:
1) Udimi Solo Ad Training – How To Buy Solo Ads
2) Udimi Review – Getting Guaranteed Traffic With Solo Ads
You can also find solo ad vendors in Facebook groups. When purchasing from vendors outside of a marketplace be sure to do your due diligence prior to purchasing from them as you will typically have to pay upfront via Paypal before the vendor will mail out to their list for you.
When purchasing solo ads you will need to supply a swipe email to the vendor which will be mailed out to their list. Obviously in this case it is advertising Yoonla in order to generate referral commissions and add new contacts to your list.
Here's an example swipe you can use although I would recommend writing your own so it's unique…
Subject: "Make $4 and $2 Commissions Without Selling Anything"

I have discovered an awesome program that pays $4 or $2 commissions
when someone interested in living the digital lifestyle registers and joins
as a free member.

Simply enter your best email at the page below and confirm
your membership for free training and more info…

=> [insert your affiliate link here]

You will need to confirm your email address so if you don't
receive a confirmation in the next few minutes please check
your spam and junk folders.
Bing (Pay Per Click Advertising)
While most people have heard of Adwords, the reality is that Google is not the only game in town when it comes to pay per click search engine advertising. Bing is Microsofts search engine and "Bing Ads" are their equivalent of Google Adwords. In my opinion Bing is more advertiser friendly than the "Big G" especially in the internet marketing niche.
In a nutshell how it works is you choose your audience and set up campaigns by choosing related keywords and creating ads in order to drive traffic to either a pre-Yoonla landing page or a Yoonla registration landing page.
In order to get involved with PPC (pay per click) you're going to need an advertising budget. I would recommend a MINIMUM of $10 a day, see how your campaigns/ads are performing and then tweak what you need so that they perform and are profitable for you.
If you go in 'blind' and try to figure it all out for yourself, you could waste quite a bit of cash so what I recommend you do here is invest in your marketing education and go through training before putting your money on the line with PPC advertising.
This course teaches you How to Cash In With Bing and at the time of writing it's available for less than $10.
Click HERE to pick up your discounted copy.
=====================================================
New To Yoonla? Click HERE to get your FREE Account.
Get my blog posts delivered by Email
** Please Check Back Soon As I'm Adding More Promotion Methods Shortly **