Click HERE to Signup To Yoonla
If you're going to join a program, you need to know 2 key things.
1) Can you really MAKE money with it? The answer to that is YES – just look at my screenshoot earnings proof above showing how I already made $160 in the first few days with Yoonla without spending a single dime on advertising.
2) Does the person you are signing up under know how to generate income with the program and will they help you do the same thing. The answer to both points here is a resounding "YES". I will help you start earning with this program and I'm here to answer any questions you may have.
I'm Dean James and just in case you haven't heard of me before (or read my blog) I'm an experienced marketer in the privileged position of knowing how to make an income online and how to help you do the SAME thing with this exciting program, so if you'd also like to make a growing income online keep on reading so you can get started earning money with Yoonla. I promise you that this is going to be an exciting journey and all you need to do is follow these steps as outlined below.
The program you are going to be joining is called Yoonla which is not only awesome but also one of the easiest ways for someone, regardless of experience, to make an income with and start living the digital lifestyle. You can create a free Yoonla account if you haven't already done so by clicking here.
What Is Yoonla?
Yoonla is a membership with training that also includes a CPA program which pays you (as an affiliate) for referring people that take a specific action or actions. In this case it's referring people interested in making money online that enter their email address in a form and confirm their interest, whether or not they actually buy anything.
You get paid your affiliate payments earned by Paypal and it will pay you as follows:
$4 per email address from United States, United Kingdom, Canada, Ireland, Australia and New Zealand.
$2 per email address from all the other countries with the exception of 8 (which include India, Nigeria, Vietnam and Zimbabwe).
Becoming a Yoonla VIP includes a number of key advantages which includes a custom setup that they are currently offering for free while spots are available ($297 Value). You get the complete Yoonla Foundation System which sets you up with a digital information product you can promote to generate an income.
With this product you get a fully integrated squeeze page so you can add leads and build an email marketing list (very powerful by the way – if you aren't already doing this you SHOULD be).
These leads go into your digital sales funnel. As part of the custom setup you get an automated email campaign follow up sequence so you can earn commissions whilst building your list.
Once you've gone VIP and everything has been setup for you, you'll also qualify for commissions on upgrades.
This is where the amazing profit potential and opportunity of Yoonla to live the digital lifestyle really comes to the fore.
Here's a hypothetical example for you. Let's say you have 100 people from top tier countries paying you $4 per email referral and 50 from the other countries that pay out $2 per referral in a month.
This alone would make you $600 in commissions but let's also, for purposes of this example, say that 20 of those people upgraded to VIP.
This would earn you an additional $300 in commissions (20 x $15).
But wait… it gets better.
Let's also assume each of these 20 VIP's referred just 3 VIP's themselves. At $10 per referral this would earn you another $600 in commissions (60 x $10). So in total that would be $600 + $300 + $600 = $1500 in commissions paid to you even though you didn't directly refer 60 of those upgrades. That is pretty amazing I'm sure you'll agree.
Upgrading your free account to Yoonla VIP means you will also be approved for the VIP affiliate program where you will earn an increased 60% commission rate on any Yoonla product purchases your leads make in Phase 2 & 3 (launching soon) as well as those $4 and $2 email form submit CPA commissions and VIP referral upgrade commissions.
Getting Started With Yoonla – Step #1
Yoonla itself is totally free to join and the training inside the membership is free as well, so if you haven't already joined I recommend getting your free account right away at the link below.
Click HERE to Register For Your FREE Yoonla Account
Once you've registered you'll need to confirm your email address and you do that by simply clicking on the link that they send you.
If you don't receive an email within a few minutes you'll need to check your spam and junk folders.
Getting Started With Yoonla – Step #2
The next step once you've confirmed your email and created your account is to upgrade to VIP. The reason I recommend you do this is that you'll get a custom setup done for you which makes everything a lot faster and you'll also be enrolled into the Yoonla CPA program that pays you those $4 and $2 commissions you can see in the earnings screenshot at the beginning of this article.
To upgrade to VIP once you're logged in, click on the big blue "Claim Your Custom Setup by Reno & Become a Yoonla VIP ($297 value)" at the top of the page and follow the instructions.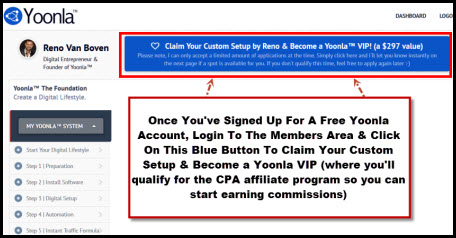 On the custom setup form enter my affiliate id which is 59eb48916af92 to make sure you are on my team so I can help you.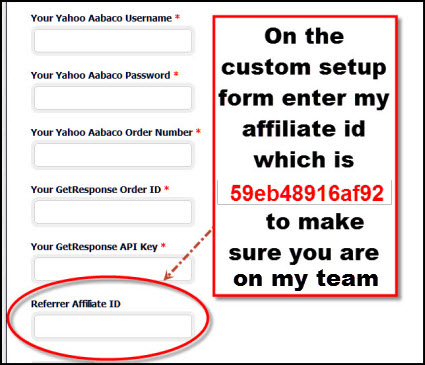 Now if you have any questions or need help please contact me using this Contact Form or message me on Facebook by Clicking HERE
Once you've filled in the custom setup form and submitted it for approval it will take Yoonla 2-7 days to set everything up for you.
When I requested setup it took about 48 hours but obviously setup times are going to vary a little. Once you're setup they will also run a 3 day traffic campaign for you which will get you some new email leads. When they ran mine I got 13 new leads in total.
Once you are approved and setup by Yoonla as a VIP I will help you take things to the next level just like I have.
Thanks for reading this article on getting started with Yoonla. If you've found it useful or you think it would be useful for other people that you know who want to make an income online working from home, please share it using one of the buttons on the left and/or leave a comment! I look forward to welcoming you aboard.
Get my blog posts delivered by Email