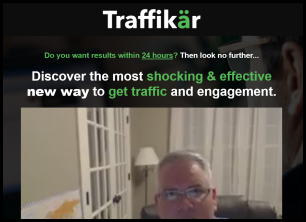 Traffikar
"Can you please stop sending me targeted traffic…
…said no webmaster or marketer ever ;-)"
Rating:


Product Reviewed: Traffikar
Creator: James Renouf & Jeremy Kennedy
Product Type: One-Time Payment
Upsells: Yes (2 – I cover them in more detail later in this report)
Click on the play button below to watch the video:
How would you like to get targeted traffic to your offer in practically any niche within the next 24 hours guaranteed? That's exactly what James Renouf and Jeremy Kennedy are offering to teach you in this brand new course which promises to get your website or offer in front of millions of people in a way that has never been shown before. In this Traffikar review I will be covering what training is inside the course itself, who it's suitable for and whether it can work for you. If you would like to visit the website to check it out you can do so by clicking here.
What Is Traffikar?
It's a brand new targeted traffic method by James Renouf and this method is detailed in this 11 video module course and 8 page PDF. The difference between this and other traffic methods is that it is suitable for practically any niche and they guarantee you will get traffic within 24 hours when you implement the steps they are teaching in this course. They've already sold nearly 2000 copies of this product with a 0% refund rate so it looks like people are happy with what's included in this course.
You can use this method to send traffic to:
A Squeeze Page (they are getting 68% opt-in rates when they do this)
A Sales Page
An Affiliate Offer
A CPA Offer
An eCom Store
A Local/Offline Business
… and more!
Essentially this is all about creating traffic on demand without needing to have a list, a website, your own product to sell or even any previous experience. All of this sounds great but let's delve a little deeper shall we and move on to the components of this course.
In total there are 11 video modules and in this review I am going to break down each module so you know exactly what you are getting. This is quite a bit of work but I feel it's better to do it this way than just give you an overview of the whole thing.
Traffikar Video Training Modules
Module 1: Introduction

We've all seen introductions before so the summary for this module is going to be short. It explains how the old way of advertising no longer works in the way it used to and how you can get seen on the internet in your niche. I can't do a full reveal here but it's about how you can potentially position yourself in front of millions of people and how this can be done inexpensively for engagement and results.
Module 2: The Big Picture
A simple way to find influencers so they recommend 'your stuff' to their audience. Why does this work? Because their audience looks up to them so they are sending warm traffic to whatever you are offering. Those people in your niche are far more likely to take action. You will be purchasing very inexpensive advertising to get traffic. This module also reveals an example of an influencer with an audience of over 2 million people.
Module 3: Influencers With Marketplaces!
This is a detailed module which is 25 minutes in length. It's all about finding key influencers in your niche and the vendor lists his favorite marketplaces for getting advertising from them. To give you an idea of how little you can get started with he gives one example costing just $3 in this module.
Module 4: Marketplaces On Mobiles
This is a quick video detailing marketplace considerations in terms of targeting on mobile.
Module 5: Influencers On __________
Doing quick searches to find high-level influencers on a platform that is revealed in the course. It would not be fair of me to reveal the source in this review so if you want to know what it is and how to do it, you'll need to invest a few dollars and pick up a copy.
This is the favorite way the creator of this product finds targeted traffic and the great thing about this is that you'll be able to 'dig your own well' for inexpensive traffic and laser target this down to super targeted traffic in the exact niche you are in. This particular module walks you through the steps you need to take so you can copy what he's doing on screen and do the same thing in your niche.
Module 6: Images for ___________
Shows you how to create beautiful images using a free resource that is available both on desktop and as a mobile app. In this module they also feature a resource for high quality images you can pick up for a $1 a time.
Module 7: Monetize
I'm sure you'll agree that it's no good getting highly targeted traffic if you don't have it monetized. As Jerry Maguire once said, "Show me the MONEY!". This module shows you ways of monetizing that traffic with things such as affiliate products/CPA (cost per action) offers and the marketplaces you can tap into in order to find products to promote. It also reveals a really popular category that does exceptionally well with this particular traffic source.
Module 8: A Case Study
This is a fresh case study video where Jeremy Kennedy shows you inside one of his personal accounts. It just happens to include one pretty controversial niche that is a huge talking point right now. He also shows proof of how he added 96 new subscribers and grew his overall audience by 148 people!
Module 9: A Second Case Study
This case study shows you how the creator found an audience of over quarter of a million people you can reach for $10. He actually spent $18 in the end which engaged over 3000 people. That's a lot of traffic for the price of a cheap meal and after watching this case study you'll see it's easy to do.
Module 10: ____________ On Desktop: Part 1
Again, I can't reveal the traffic source as that would be unfair to the creators of this course. This module demonstrates a quick and effective way of running an app on a desktop (essentially as an emulator) that is primarily designed to run on a mobile device. This module walks you through the setup process of getting apps that would normally run on your phone and access them on your desktop instead. Particularly useful for anyone that wants to use a dedicated mobile app on a desktop device or do things such as screensharing/recording videos on desktop and Periscope (etc).
Module 11: ____________ On Desktop: Part 2
A continuation of module 11 which requires no further explanation other than to say you'll be able to watch it when you get Traffikar.
What About The Upsells?
Traffikar does have a couple of interesting and added-value upsells which are as follows.
Upsell 1: GOLD – Become a Traffic Vendor Yourself With This Training ($27 – 50% off while on earlybird pricing)
James Renouf and Jeremy Kennedy teach you how to build a business quickly for yourself by selling the same type of traffic that you can buy. You can do this in any niche you desire, so if you want to be a traffic vendor in any niche this upsell will be invaluable to you. On the other hand, if you have no interest in selling traffic yourself, you won't need it.
You'll know which upsell this is when you watch the video because James recorded it just after he had dropped a mirror on his foot, which I found rather amusing (sorry James!).
Inside this training you get access to tools, stockimages, niche ideas and some automated processes to cut out the 'heavy-lifting'. James says in this upsell video that he could easily sell this for $100.
Upsell 2: PLATINUM – Access to Premium Mastermind with James Renouf ($27 month).
This one is pretty self explanatory. You get access to the premium mastermind set up by James Renouf. This is a recurring membership which reveals new ways to make more money, get more traffic and James will be offering content every month. He says this is the only group he is doing and involved in. So, basically the price of a few Starbucks coffees every month to get mastermind access to the creator of this course.
Pros of Traffikar
You can generate targeted traffic in less than 24 hours with this method and it works in almost any niche. The creators of this product also guarantee this works.
Unlike some traffic methods or courses that focus strictly on internet marketing/make money online this is the complete opposite. Want to get traffic to a weight loss affiliate offer? You can with this. Want to sell dog collars on an ecommerce site? You can with this. You name it, you can pretty much do it if it's a niche with any commercial intent.
This method is suitable for newbies because getting traffic is straight forward. There are even marketplaces you can use to purchase traffic from influencers in the niche you want to target (Traffikar shows you what these are and how to get traffic with them).
The traffic source can't really get saturated and at the moment not many people are doing this which leaves it wide open for you to have a field day driving traffic to whatever you are selling as an affiliate or vendor while prices are low.
The course is thorough – James and Jeremy literally spoon feed you with what you need to know in video module format. You can also watch these videos online so no need to download them to your desktop or mobile device.
If you grab the first upsell (the GOLD one that's 27 bucks) you can also learn how to become a traffic seller yourself. So not only could you be getting quality low-cost traffic, you could also be selling it as well.
Although the platform will probably not be new to you, the way you will be using it as a traffic source is probably something you have not considered before and even if you have, you probably won't have realised the scale of opportunity it presents until you've run through the modules in Traffikar.
Cons Of Traffikar
It's a low-cost traffic method but it isn't free. In the course there's one example of how you can get traffic for as little as $3. In another of the case studies it shows an opportunity in one niche to get traffic for $10 and within 24 hours. You should be able to quickly produce a positive ROI on any money you spend on traffic.
There's two routes you can go down with regard to getting traffic using the Traffikar method. One is to use one of the marketplaces they recommend and literally spend a few dollars to get it or you can 'dig your own well' and do a little bit of searching to come up with traffic opportunities you can pretty much guarantee none of your competitors are using (if they are it would be like bumping into someone in a very crowded party). The only downside here is that the 'digging your own well' side takes a little longer but in the long run it's worth it (I'm talking about spending 5 or 10 minutes as oppose to hours).
James recorded the first upsell video after dropping a mirror on his foot. If I had been him I would have given it 30 minutes or so before hitting that record button. Sorry, I can't stop laughing about that – is there a downside to dropping a mirror on your foot? Answers on an accident and emergency postcard (get well soon James ;-)).
You may lose sleep when you realise how much traffic you can get to your website or offer with this method.
Your friends will think you are donning a disguise but it's because you've grown a beard after forgetting to shave as a direct result of being too busy placing orders for more traffic. If you're a man this could work in your favor, but if you're a woman this is a pretty big deal.
Okay, seriously now (sorry folks, it's good to have a laugh now and again) – there really aren't many negatives here as this is a traffic method that obviously works providing you are willing to take action and have a few bucks to spare for traffic.
Traffikar Review – Concluding Summary
In some ways this traffic method, once you know it, is something that you'll go, "Ah yes, it is hiding in plain sight" but I can pretty much guarantee you won't have realised the scale of the opportunity before picking up a copy of the Traffikar course. It's amazing how flexible this traffic strategy is and it's true that it does apply to any niche that has commercial intent. Want to get traffic for a dog training info product or physical product? You can do that here. Want to appeal to opportunity/biz seekers? You can do that as well. If there is money in that niche, you can make it with this traffic method.
The other great thing about it is that it's really inexpensive and because you'll be using the instructions in the training to 'dig your own traffic well' you won't be faced with a situation where the offer or product you are promoting has become saturated to that audience. James and Jeremy also guarantee that you will get traffic within 24 hours with the steps outlined in Traffikar and it's not often you see a product creator so confidently back up the claims of their product with such a guarantee.
So, to conclude, this is a legitimate traffic source and the video modules will walk you through what you need to do to start getting traffic for as little as $3. They even include 2 case studies for no extra cost when you buy this course. You will need to grease the wheels with a few bucks to get the traffic but in return that gets you highly engaged visitors that will drive leads and sales for you including affiliate offers. If you want to also sell traffic yourself, the first upsell (the GOLD one) is also worth picking up for $27. If you want targeted traffic at a low-cost this is a viable method that has legs in terms of scale and puts you in front of potentially millions of people that would have real interest in whatever it is you are advertising.
If you enjoyed this review please do share it with anyone you know that might find it useful. Thanks as always for reading!
Get my blog posts delivered by Email