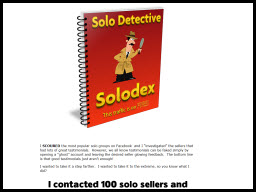 Product Reviewed: Solo Detective
Creator: Chris Mollo
Product Type: Solodex Report of 100 Top Solo Ad Vendors
Bonus: High Converting Squeeze Page
One-Time Cost: $5 (subject to change)
What do we want? TRAFFIC. When do we want it? NOW!
Altogether now, everybody join in 🙂
Click on the play button below to watch my video below which explains how solo ads work and where you can buy them:
In this review, I am going to be covering a product released by Chris Mollo called "Solo Detective". Before you read any further, you need to know this product is about getting highly qualified PAID TRAFFIC to your website by means of a "Solodex" resource of 100 top traffic vendors that have been personally vetted by Chris. If you would like to check out this Solodex you can do so by clicking here.
Before we go into the meat of this review, I am going to give you a quick background on the creator himself.
Who Is Chris Mollo?
He's a full time internet marketer/blogger in Sunny Arizona. Chris has a great deal of knowledge and experience in list building and driving traffic online using a variety of methods. One method of driving excellent quality traffic to your website is using solos and this is where Chris has donned his 'detective hat' in order to sort out the wheat from the chaff so that you don't have to.
What Is Solo Ad Detective?
It's a resource of 100 top solo ad vendors vetted by Chris. In order to be included in this "Solodex" they had to meet the following criteria:
* Each vendor had to send 25 clicks so those clicks could be checked by Chris and verified as legitimate.
* Each and every click the vendor sent was checked by IP. They had to pass this check in order to be included in the "Solodex"
* Each vendor had to send 7 opt-ins (28% conversion minimum) for those 25 clicks.
Any vendors that did not meet the above criteria were eliminated from inclusion in the list.
What does this mean? It's means that only the BEST SOLO AD VENDORS are included in the Solo Detective Solodex.
By using vendors that have already passed these tests you are getting:
1) Legitimate Traffic
2) Traffic That Converts into Subscribers that Join YOUR List
3) More Buyers That Will Purchase What You are Offering (please note there are no guarantees of sales, that all depends on your offer and how it converts overall plus your follow-up sequence)
Solo ads are a great way of driving traffic to your website (squeeze page and in some cases sales pages) but it can be something of a minefield out there. There are solo ad vendors out there that will send you fake/useless traffic, take your money and leave you high and dry. That's why a list of 100 top vendors already vetted by an industry professional is worth it's weight in gold and that's what you are getting with this product.
Rather than spend $30-50 (or more) and get ripped off by a vendor that either doesn't deliver or sends you junk traffic, it just makes sense to have a list of vendors that are already proven to deliver.
Solo Detective – What Are Others Saying?

"I have had a chance to go through CJ's Solo ad seller list.
The list it delivered in PDF format and is 6-pages long.
Also delivered is a decent squeeze page
It has taken him quite a while to compile this list.
I am going to use several of the sellers … will be expecting positive results." ~ Ron

"I suggest to anyone reading this to get YOURS now before the seller
sees sense and raises this beauty to what it's really worth.
I'm off to book my next solo." ~ Gavin

"If you're interested in running solo ads, you can save yourself a ton of time
searching for reputable sellers and buy this guide. It'll pay for itself in the
first 5 minutes of searching on your own." ~ AZMD

"This is an excellent resource and a must for anyone buying Solo's, it's like the definitive guide to not getting scammed. If you haven't got it, then get it, it's an amazing compilation that will save you an enormous amount of time." ~ Barry Newton
What You Get When You Buy Solo Detective
1) First and foremost, you get the resource itself which is a vetted list of top 100 solo ad vendors you can buy ads from to start driving traffic to your website. This resource reveals the name of the solo ad vendor together with their facebook page and order page so you can place an order/contact the vendor.
2) You also get a high converting squeeze page you can use to build your list (this is currently a bonus and I'm not sure how long it will be available)
You Get Seller Name, Facebook Profile Contact Details and Sales/Order Page URL for Top 100 Solo Ad Vendors Inside The Report (see image below)…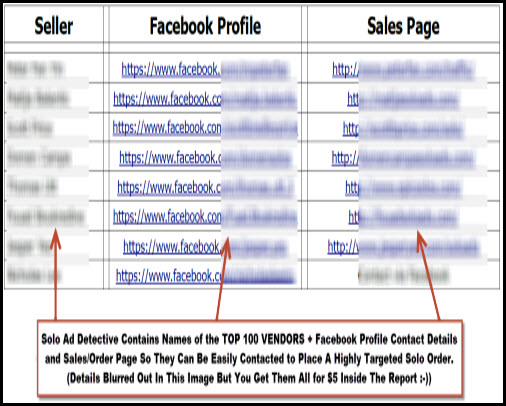 Who Should Buy Solo Detective?
This product is IDEAL for anyone in the internet marketing/make money online niche that either wants to or is already building a list and is willing to pay for quality traffic. It's not aimed or intended at other niches but in my experience SOME of these vendors MAY have other lists in the Health/Fitness niche and/or Forex/Finance/Investing, but I am not guaranteeing there will be, it's just my experience of what niches internet marketers are often into. Now if I was in those niches I would purchase this "Solodex" and ask the vendors on the list if they can send targeted traffic to [insert name of your niche here]. You'll either get a YES or a NO, but you won't know if you don't ask. This product is NOT for people that just want traffic to a content or ecommerce website.
Who Should NOT Buy Solo Detective?
You should not buy this product if you have ZERO advertising budget. A solo ad will typically cost $30-$60 (depending on vendor) per 100 clicks. You can get cheaper 50 click ads for around $20, so to get started with solos you will need enough to buy at least a couple of ads initially. Remember, this is paid advertising so there is some cost involved to get started. There is no such thing as FREE traffic because there is time-cost involved (and your time is worth money). Even if you are using free methods to drive traffic to your website, you should also be incorporating paid methods as well so you can scale things more quickly.
Solo Detective Solodex – Concluding Summary
It's an unfortunate and true fact that there are solo vendors out there that will take your hard-earned money and either fail to deliver or send you useless traffic that doesn't convert to subscribers or make you any money. When you consider that you can waste upwards of $30 on a solo ad by purchasing from a vendor that doesn't deliver, it only makes sense to purchase from reputable vendors in this marketplace. I am a big fan of solo ads, but you must make sure you buy from vendors that are sending real, qualified traffic that converts. For $5 at time of writing, you are getting an excellent resource with this list of 100 'vetted' solo ad vendors that have proven they deliver real traffic and that their traffic results in subscribers (which means more buyers). Anyone interested in purchasing solo traffic should invest $5 and pick up a copy of this excellent resource which will pay for itself many times over.
Get my blog posts delivered by Email